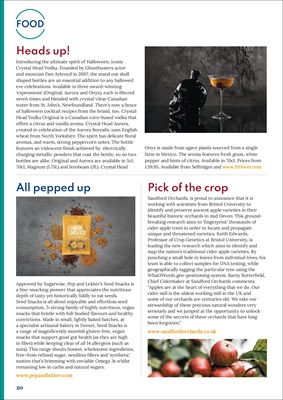 20
FOOD
Heads up!
Introducing the ultimate spirit of Halloween; iconic
Crystal Head Vodka. Founded by Ghostbusters actor
and musician Dan Aykroyd in 2007, the stand out skull
shaped bottles are an essential addition to any hallowed
eve celebrations. Available in three award-winning
'expressions' (Original, Aurora and Onyx), each is filtered
seven times and blended with crystal-clear Canadian
water from St. John's, Newfoundland. There's now a brace
of halloween cocktail recipes from the brand, too. Crystal
Head Vodka Original is a Canadian corn-based vodka that
offers a citrus and vanilla aroma. Crystal Head Aurora,
created in celebration of the Aurora Borealis, uses English
wheat from North Yorkshire. The spirit has delicate floral
aromas, and warm, strong peppercorn notes. The bottle
features an iridescent finish achieved by electrically
charging metallic powders that coat the bottle, so no two
bottles are alike. Original and Aurora are available in 5cl,
70cl, Magnum (1.75L) and Jeroboam (3L). Crystal Head
All pepped up Pick of the crop
Sandford Orchards, is proud to announce that it is
working with scientists from Bristol University to
identify and preserve ancient apple varieties in their
beautiful historic orchards in mid Devon. This groundbreaking
research aims to 'fingerprint' thousands of
cider apple trees in order to locate and propagate
unique and threatened varieties. Keith Edwards,
Professor of Crop Genetics at Bristol University, is
leading the new research which aims to identify and
map the nation's traditional cider apple varieties. By
punching a small hole in leaves from individual trees, his
team is able to collect samples for DNA testing, while
geographically tagging the particular tree using the
What3Words geo-positioning system. Barny Butterfield,
Chief Cidermaker at Sandford Orchards comments:
"Apples are at the heart of everything that we do. Our
cider mill is the oldest working mill in the UK and
some of our orchards are centuries old. We take our
stewardship of these precious natural wonders very
seriously and we jumped at the opportunity to unlock
some of the secrets of these orchards that have long
been forgotten."
Onyx is made from agave plants sourced from a single
farm in Mexico. The aroma features fresh grass, white
pepper and hints of citrus. Available in 70cl. Prices from
£39.95. Available from Selfridges and www.31Dover.com
Approved by Sugarwise, Pep and Lekker's Seed Snacks is
a fine-snacking pioneer that appreciates the nutritious
depth of tasty yet historically fiddly to eat seeds.
Seed Snacks is all about enjoyable and effortless seed
consumption, 5-strong family of highly nutritious, vegan
snacks that bristle with full-bodied flavours and healthy
convictions. Made in small, lightly baked batches, at
a specialist artisanal bakery in Dorset, Seed Snacks is
a range of magnificently moreish gluten-free, vegan
snacks that support good gut health (as they are high
in fibre) while keeping clear of all 14 allergens (such as
nuts). This range shouts honest, wholesome ingredients,
free-from refined sugar, needless fillers and 'synthetic'
nasties that's brimming with enviable Omega 3s whilst
remaining low in carbs and natural sugars.