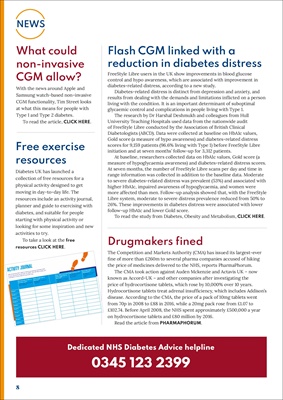 8
NEWS
What could
non-invasive
CGM allow?
With the news around Apple and
Samsung watch-based non-invasive
CGM functionality, Tim Street looks
at what this means for people with
Type 1 and Type 2 diabetes.
To read the article, CLICK HERE.
Flash CGM linked with a
reduction in diabetes distress
FreeStyle Libre users in the UK show improvements in blood glucose
control and hypo awareness, which are associated with improvement in
diabetes-related distress, according to a new study.
Diabetes-related distress is distinct from depression and anxiety, and
results from dealing with the demands and limitations inflicted on a person
living with the condition. It is an important determinant of suboptimal
glycaemic control and complications in people living with Type 1.
The research by Dr Harshal Deshmukh and colleagues from Hull
University Teaching Hospitals used data from the nationwide audit
of FreeStyle Libre conducted by the Association of British Clinical
Diabetologists (ABCD). Data were collected at baseline on HbA1c values,
Gold score (a measure of hypo awareness) and diabetes-related distress
scores for 9,159 patients (96.6% living with Type 1) before FreeStyle Libre
initiation and at seven months' follow-up for 3,312 patients.
At baseline, researchers collected data on HbA1c values, Gold score (a
measure of hypoglycaemia awareness) and diabetes-related distress scores.
At seven months, the number of FreeStyle Libre scans per day and time in
range information was collected in addition to the baseline data. Moderate
to severe diabetes-related distress was prevalent (53%) and associated with
higher HbA1c, impaired awareness of hypoglycaemia, and women were
more affected than men. Follow-up analysis showed that, with the FreeStyle
Libre system, moderate to severe distress prevalence reduced from 50% to
26%. These improvements in diabetes distress were associated with lower
follow-up HbA1c and lower Gold score.
To read the study from Diabetes, Obesity and Metabolism, CLICK HERE.
Drugmakers fined
The Competition and Markets Authority (CMA) has issued its largest-ever
fine of more than £260m to several pharma companies accused of hiking
the price of medicines delivered to the NHS, reports PharmaPhorum.
The CMA took action against Auden Mckenzie and Actavis UK - now
known as Accord-UK - and other companies after investigating the
price of hydrocortisone tablets, which rose by 10,000% over 10 years.
Hydrocortisone tablets treat adrenal insufficiency, which includes Addison's
disease. According to the CMA, the price of a pack of 10mg tablets went
from 70p in 2008 to £88 in 2016, while a 20mg pack rose from £1.07 to
£102.74. Before April 2008, the NHS spent approximately £500,000 a year
on hydrocortisone tablets and £80 million by 2016.
Read the article from PHARMAPHORUM.
Free exercise
resources
Diabetes UK has launched a
collection of free resources for a
physical activity designed to get
moving in day-to-day life. The
resources include an activity journal,
planner and guide to exercising with
diabetes, and suitable for people
starting with physical activity or
looking for some inspiration and new
activities to try.
Take a look at the FREE
RESOURCES HERE.
Dedicated NHS Diabetes Advice helpline
0345 123 2399
activity journal
Take some time each week to record your journey and keep track
of your successes for the next 10 weeks. This will help to keep you
motivated to move a little bit more each day.
Movements I'd like to
try this week
For example: "I'm going for a
walk in the park".
What might get in
the way?
For example: "I might lack
motivation".
How will I overcome
what might get in
the way?
For example: "I'm going
to ask someone I know
to join me".
Movements I did
For example: "I walked
for 30 minutes in
the morning".
How did I feel
afterwards?
For example: "I'm proud
I managed to go for
a walk".
Week 1
Week 2
Week 3
Week 4
Week 5
Week 6
Week 7
Week 8
Week 9
Week 10