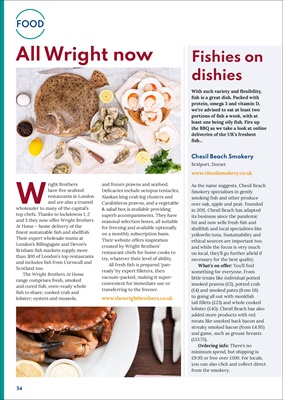 34
FOOD
All Wright now
Wright Brothers
have five seafood
restaurants in London
and are also a trusted
wholesaler to many of the capital's
top chefs. Thanks to lockdowns 1, 2
and 3 they now offer Wright Brothers
At Home - home delivery of the
finest sustainable fish and shellfish.
Their expert wholesale teams at
London's Billingsgate and Devon's
Brixham fish markets supply more
than 300 of London's top restaurants
and includes fish from Cornwall and
Scotland too.
The Wright Brothers At Home
range comprises fresh, smoked
and cured fish; oven-ready whole
fish to share; cooked crab and
lobster; oysters and mussels;
and frozen prawns and seafood.
Delicacies include octopus tentacles,
Alaskan king crab leg clusters and
Carabiñeros prawns, and a vegetable
& salad box is available providing
superb accompaniments. They have
seasonal selection boxes, all suitable
for freezing and available optionally
on a monthly subscription basis.
Their website offers inspiration
created by Wright Brothers'
restaurant chefs for home cooks to
try, whatever their level of ability.
All fresh fish is prepared 'panready'
by expert filleters, then
vacuum-packed, making it superconvenient
for immediate use or
transferring to the freezer.
Fishies on
dishies
With such variety and flexibility,
fish is a great dish. Packed with
protein, omega 3 and vitamin D,
we're advised to eat at least two
portions of fish a week, with at
least one being oily fish. Fire up
the BBQ as we take a look at online
deliveries of the UK's freshest
fish...
Chesil Beach Smokery
Bridport, Dorset
As the name suggests, Chesil Beach
Smokery specialises in gently
smoking fish and other produce
over oak, apple and peat. Founded
in 2011, Chesil Beach has adapted
its business since the pandemic
hit and now sells fresh fish and
shellfish and local specialities like
yellowfin tuna. Sustainability and
ethical sources are important too,
and while the focus is very much
on local, they'll go further afield if
necessary for the best quality.
What's on offer: You'll find
something for everyone. From
little treats like individual potted
smoked prawns (£5), potted crab
(£4) and smoked pates (from £6)
to going all out with monkfish
tail fillets (£23) and whole cooked
lobster (£45). Chesil Beach has also
added more products with red
meats like smoked back bacon and
streaky smoked bacon (from £4.95)
and game, such as grouse breasts
(£13.75).
Ordering info: There's no
minimum spend, but shipping is
£9.95 or free over £100. For locals,
you can also click and collect direct
from the smokery.