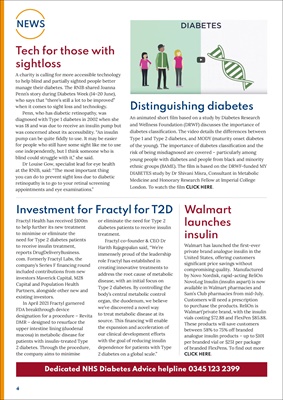 4
NEWS
Tech for those with
sightloss
A charity is calling for more accessible technology
to help blind and partially sighted people better
manage their diabetes. The RNIB shared Joanna
Penn's story during Diabetes Week (14-20 June),
who says that "there's still a lot to be improved"
when it comes to sight loss and technology.
Penn, who has diabetic retinopathy, was
diagnosed with Type 1 diabetes in 2002 when she
was 18 and was due to receive an insulin pump but
was concerned about its accessibility. "An insulin
pump can be quite fiddly to use. It may be easier
for people who still have some sight like me to use
one independently, but I think someone who is
blind could struggle with it," she said.
Dr Louise Gow, specialist lead for eye health
at the RNIB, said: "The most important thing
you can do to prevent sight loss due to diabetic
retinopathy is to go to your retinal screening
appointments and eye examinations."
Distinguishing diabetes
An animated short film based on a study by Diabetes Research
and Wellness Foundation (DRWF) discusses the importance of
diabetes classification. The video details the differences between
Type 1 and Type 2 diabetes, and MODY (maturity onset diabetes
of the young). The importance of diabetes classification and the
risk of being misdiagnosed are covered - particularly among
young people with diabetes and people from black and minority
ethnic groups (BAME). The film is based on the DRWF-funded MY
DIABETES study by Dr Shivani Misra, Consultant in Metabolic
Medicine and Honorary Research Fellow at Imperial College
London. To watch the film CLICK HERE.
Walmart
launches
insulin
Walmart has launched the first-ever
private brand analogue insulin in the
United States, offering customers
significant price savings without
compromising quality. Manufactured
by Novo Nordisk, rapid-acting ReliOn
NovoLog Insulin (insulin aspart) is now
available in Walmart pharmacies and
Sam's Club pharmacies from mid-July.
Customers will need a prescription
to purchase the products. ReliOn is
Walmart'private brand, with the insulin
vials costing $72.88 and FlexPen $85.88.
These products will save customers
between 58% to 75% off branded
analogue insulin products - up to $101
per branded vial or $251 per package
of branded FlexPens. To find out more
CLICK HERE.
Investment for Fractyl for T2D
Fractyl Health has received $100m
to help further its new treatment
to minimise or eliminate the
need for Type 2 diabetes patients
to receive insulin treatment,
reports DrugDeliveryBusiness.
com. Formerly Fractyl Labs, the
company's Series F financing round
included contributions from new
investors Maverick Capital, M28
Capital and Population Health
Partners, alongside other new and
existing investors.
In April 2021 Fractyl garnered
FDA breakthrough device
designation for a procedure - Revita
DMR - designed to resurface the
upper intestine lining (duodenal
mucosa) in metabolic disease for
patients with insulin-treated Type
2 diabetes. Through the procedure,
the company aims to minimise
or eliminate the need for Type 2
diabetes patients to receive insulin
treatment.
Fractyl co-founder & CEO Dr
Harith Rajagopalan said, "We're
immensely proud of the leadership
role Fractyl has established in
creating innovative treatments to
address the root cause of metabolic
disease, with an initial focus on
Type 2 diabetes. By controlling the
body's central metabolic control
organ, the duodenum, we believe
we've discovered a novel way
to treat metabolic disease at its
source. This financing will enable
the expansion and acceleration of
our clinical development efforts
with the goal of reducing insulin
dependence for patients with Type
2 diabetes on a global scale."
Dedicated NHS Diabetes Advice helpline 0345 123 2399