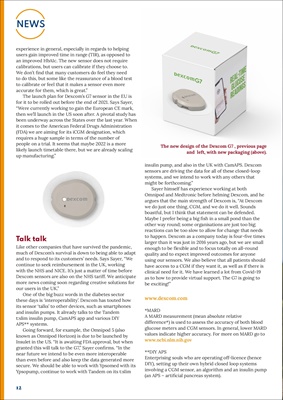 12
NEWS
experience in general, especially in regards to helping
users gain improved time in range (TIR), as opposed to
an improved HbA1c. The new sensor does not require
calibrations, but users can calibrate if they choose to.
We don't find that many customers do feel they need
to do this, but some like the reassurance of a blood test
to calibrate or feel that it makes a sensor even more
accurate for them, which is great."
The launch plan for Dexcom's G7 sensor in the EU is
for it to be rolled out before the end of 2021. Says Sayer,
"Were currently working to gain the European CE mark,
then we'll launch in the US soon after. A pivotal study has
been underway across the States over the last year. When
it comes to the American Federal Drugs Administration
(FDA) we are aiming for its iCGM designation, which
requires a huge sample in terms of the number of
people on a trial. It seems that maybe 2022 is a more
likely launch timetable there, but we are already scaling
up manufacturing."
insulin pump, and also in the UK with CamAPS. Dexcom
sensors are driving the data for all of these closed-loop
systems, and we intend to work with any others that
might be forthcoming."
Sayer himself has experience working at both
Omnipod and Medtronic before helming Dexcom, and he
argues that the main strength of Dexcom is, "At Dexcom
we do just one thing, CGM, and we do it well. Sounds
boastful, but I think that statement can be defended.
Maybe I prefer being a big fish in a small pond than the
other way round; some organisations are just too big;
reactions can be too slow to allow for change that needs
to happen. Dexcom as a company today is four-five times
larger than it was just in 2016 years ago, but we are small
enough to be flexible and to focus totally on all-round
quality and to expect improved outcomes for anyone
using our sensors. We also believe that all patients should
have access to a CGM if they want it, as well as if there is
clinical need for it. We have learned a lot from Covid-19
as to how to provide virtual support. The G7 is going to
be exciting!"
*MARD
A MARD measurement (mean absolute relative
difference*) is used to assess the accuracy of both blood
glucose meters and CGM sensors. In general, lower MARD
values indicate higher accuracy. For more on MARD go to
**DIY APS
Enterprising souls who are operating off-licence (hence
DIY), setting up their own hybrid closed loop systems
involving a CGM sensor, an algorithm and an insulin pump
(an APS - artificial pancreas system).
Talk talk
Like other companies that have survived the pandemic,
much of Dexcom's survival is down to being able to adapt
and to respond to its customers' needs. Says Sayer, "We
continue to seek reimbursement in the UK, working
with the NHS and NICE. It's just a matter of time before
Dexcom sensors are also on the NHS tariff. We anticipate
more news coming soon regarding creative solutions for
our users in the UK."
One of the big buzz words in the diabetes sector
these days is 'interoperability'. Dexcom has touted how
its sensor 'talks' to other devices, such as smartphones
and insulin pumps. It already talks to the Tandem
t:slim insulin pump, CamAPS app and various DIY
APS** systems.
Going forward, for example, the Omnipod 5 (also
known as Omnipod Horizon) is due to be launched by
Insulet in the US. "It is awaiting FDA approval, but when
granted this will talk to the G7," Sayer confirms. "In the
near future we intend to be even more interoperable
than even before and also keep the data generated more
secure. We should be able to work with Ypsomed with its
Ypsopump, continue to work with Tandem on its t:slim
The new design of the Dexcom G7 , previous page
and left, with new packaging (above).