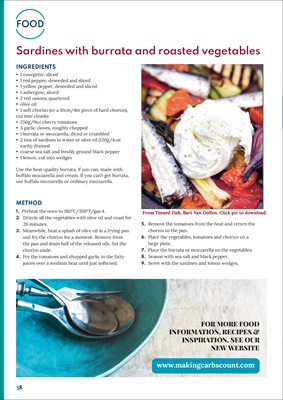 38
FOOD
Sardines with burrata and roasted vegetables
INGREDIENTS
• 1 courgette, sliced
• 1 red pepper, deseeded and sliced
• 1 yellow pepper, deseeded and sliced
• 1 aubergine, sliced
• 2 red onions, quartered
• olive oil
• 1 soft chorizo (or a 10cm/4in piece of hard chorizo),
cut into chunks
• 250g/9oz cherry tomatoes
• 3 garlic cloves, roughly chopped
• 1 burrata or mozzarella, diced or crumbled
• 2 tins of sardines in water or olive oil (120g/4.oz
each), drained
• coarse sea salt and freshly ground black pepper
• 1 lemon, cut into wedges
Use the best-quality burrata, if you can, made with
buffalo mozzarella and cream. If you can't get burrata,
use buffalo mozzarella or ordinary mozzarella.
METHOD
1. Preheat the oven to 180°C/350°F/gas 4.
2. Drizzle all the vegetables with olive oil and roast for
20 minutes.
3. Meanwhile, heat a splash of olive oil in a frying pan
and fry the chorizo for a moment. Remove from
the pan and drain half of the released oils. Set the
chorizo aside.
4. Fry the tomatoes and chopped garlic in the fatty
juices over a medium heat until just softened.
5. Remove the tomatoes from the heat and return the
chorizo to the pan.
6. Place the vegetables, tomatoes and chorizo on a
large plate.
7. Place the burrata or mozzarella on the vegetables.
8. Season with sea salt and black pepper.
9. Serve with the sardines and lemon wedges.
FOR MORE FOOD
INFORMATION, RECIPES &
INSPIRATION, SEE OUR
NEW WEBSITE