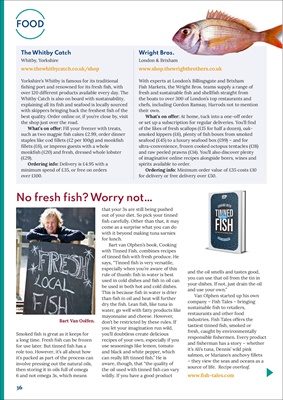 36
FOOD
No fresh fish? Worry not…
The Whitby Catch
Whitby, Yorkshire
Yorkshire's Whitby is famous for its traditional
fishing port and renowned for its fresh fish, with
over 120 different products available every day. The
Whitby Catch is also on board with sustainability,
explaining all its fish and seafood is locally sourced
with skippers bringing back the freshest fish of the
best quality. Order online or, if you're close by, visit
the shop just over the road.
What's on offer: Fill your freezer with treats,
such as two magpie fish cakes £2.99, order dinner
staples like cod fillets (£2 per 100g) and monkfish
fillets (£6), or impress guests with a whole
monkfish (£20) and fresh, dressed whole lobster
(£29).
Ordering info: Delivery is £4.95 with a
minimum spend of £35, or free on orders
over £100.
Wright Bros.
London & Brixham
www.shop.thewrightbrothers.co.uk
With experts at London's Billingsgate and Brixham
Fish Markets, the Wright Bros. teams supply a range of
fresh and sustainable fish and shellfish straight from
the boats to over 300 of London's top restaurants and
chefs, including Gordon Ramsay, Harrods not to mention
their own.
What's on offer: At home, tuck into a one-off order
or set up a subscription for regular deliveries. You'll find
of the likes of fresh scallops (£15 for half a dozen), oaksmoked
kippers (£6), plenty of fish boxes from smoked
seafood (£45) to a luxury seafood box (£99) - and for
ultra-convenience, frozen cooked octopus tentacles (£18)
and raw peeled prawns (£14). You'll also discover plenty
of imaginative online recipes alongside beers, wines and
spirits available to order.
Ordering info: Minimum order value of £35 costs £10
for delivery or free delivery over £50.
Smoked fish is great as it keeps for
a long time. Fresh fish can be frozen
for use later. But tinned fish has a
role too. However, it's all about how
it's packed as part of the process can
involve pressing out the natural oils,
then storing it in oils full of omega
6 and not omega 3s, which means
that your 3s are still being pushed
out of your diet. So pick your tinned
fish carefully. Other than that, it may
come as a surprise what you can do
with it beyond making tuna sarnies
for lunch.
Bart van Olphen's book, Cooking
with Tinned Fish, combines recipes
of tinned fish with fresh produce. He
says, "Tinned fish is very versatile,
especially when you're aware of this
rule of thumb: fish in water is best
used in cold dishes and fish in oil can
be used in both hot and cold dishes.
This is because fish in water is drier
than fish in oil and heat will further
dry the fish. Lean fish, like tuna in
water, go well with fatty products like
mayonnaise and cheese. However,
don't be restricted by these rules. If
you let your imagination run wild,
you'll doubtless create delicious
recipes of your own, especially if you
use seasonings like lemon, tomato
and black and white pepper, which
can really lift tinned fish." He is
aware, though, that "the quality of
the oil used with tinned fish can vary
wildly. If you have a good product
and the oil smells and tastes good,
you can use that oil from the tin in
your dishes. If not, just drain the oil
and use your own."
Van Olphen started up his own
company - Fish Tales - bringing
sustainable fish to retailers,
restaurants and other food
industries. Fish Tales offers the
tastiest tinned fish, smoked or
fresh, caught by environmentally
responsible fishermen. Every product
and fisherman has a story - whether
it's Ali's tuna, Dennis' wild pink
salmon, or Mariano's anchovy fillets
- they view the seas and oceans as a
source of life.
Bart Van Oolfen.