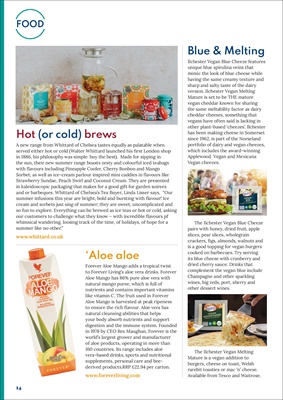 14
FOOD
Hot (or cold) brews
A new range from Whittard of Chelsea tastes equally as palatable when
served either hot or cold (Walter Whittard launched his first London shop
in 1886, his philosophy was simple: buy the best). Made for sipping in
the sun, their new summer range boasts zesty and colourful iced teabags
with flavours including Pineapple Cooler, Cherry Bonbon and Mango
Sorbet, as well as ice-cream parlour inspired mini caddies in flavours like
Strawberry Sundae, Peach Swirl and Coconut Cream. They are presented
in kaleidoscopic packaging that makes for a good gift for garden soirees
and or barbeques. Whittard of Chelsea's Tea Buyer, Linda Lisser says, "Our
summer infusions this year are bright, bold and bursting with flavour! Ice
cream and sorbets just sing of summer; they are sweet, uncomplicated and
so fun to explore. Everything can be brewed as ice teas or hot or cold, asking
our customers to challenge what they know - with incredible flavours pf
whimsical wandering, loosing track of the time, of holidays, of hope for a
summer like no other."
Blue & Melting
Forever Aloe Mango adds a tropical twist
to Forever Living's aloe vera drinks. Forever
Aloe Mango has 86% pure aloe vera with
natural mango puree, which is full of
nutrients and contains important vitamins
like vitamin C. The fruit used in Forever
Aloe Mango is harvested at peak ripeness
to ensure the rich flavour. Aloe vera has
natural cleansing abilities that helps
your body absorb nutrients and support
digestion and the immune system. Founded
in 1978 by CEO Rex Maughan, Forever is the
world's largest grower and manufacturer
of aloe products, operating in more than
160 countries. Its range includes aloe
vera-based drinks, sports and nutritional
supplements, personal care and beederived
products.RRP £22.94 per carton.
Blue & Melting
Ilchester Vegan Blue Cheeze features
unique blue spirulina veins that
mimic the look of blue cheese while
having the same creamy texture and
sharp and salty taste of the dairy
version. Ilchester Vegan Melting
Mature is set to be THE mature
vegan cheddar known for sharing
the same meltability factor as dairy
cheddar cheeses, something that
vegans have often said is lacking in
other plant-based 'cheezes'. Ilchester
has been making cheese in Somerset
since 1962, is part of the Norseland
portfolio of dairy and vegan cheezes,
which includes the award-winning
Applewood Vegan and Mexicana
Vegan cheezes.
The Ilchester Vegan Blue Cheeze
pairs with honey, dried fruit, apple
slices, pear slices, wholegrain
crackers, figs, almonds, walnuts and
is a good topping for vegan burgers
cooked on barbecues. Try serving
its blue cheese with cranberry and
dried cherry sauce. Drinks that
complement the vegan blue include
Champagne and other sparkling
wines, big reds, port, sherry and
other dessert wines.
The Ilchester Vegan Melting
Mature is a vegan addition to
burgers, cheese on toast, Welsh
rarebit toasties or mac 'n' cheese.
Available from Tesco and Waitrose.