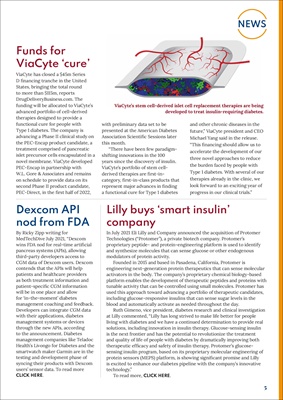 5
NEWS
Funds for
ViaCyte 'cure'
ViaCyte has closed a $45m Series
D financing tranche in the United
States, bringing the total round
to more than $115m, reports
DrugDeliveryBusiness.com. The
funding will be allocated to ViaCyte's
advanced portfolio of cell-derived
therapies designed to provide a
functional cure for people with
Type 1 diabetes. The company is
advancing a Phase II clinical study on
the PEC-Encap product candidate, a
treatment comprised of pancreatic
islet precursor cells encapsulated in a
novel membrane. ViaCyte developed
PEC-Encap in partnership with
W.L. Gore & Associates and remains
on schedule to provide data on its
second Phase II product candidate,
PEC-Direct, in the first half of 2022,
Dexcom API
nod from FDA
By Ricky Zipp writing for
MedTechDive July 2021, "Dexcom
wins FDA nod for real-time artificial
pancreas systems (APIs), allowing
third-party developers access to
CGM data of Dexcom users. Dexcom
contends that the APIs will help
patients and healthcare providers
as both treatment information and
patient-specific CGM information
will be in one place and allow
for 'in-the-moment' diabetes
management coaching and feedback.
Developers can integrate CGM data
with their applications, diabetes
management systems or devices
through the new APIs, according
to the announcement. Diabetes
management companies like Teladoc
Health's Livongo for Diabetes and the
smartwatch maker Garmin are in the
testing and development phase of
syncing their products with Dexcom
users' sensor data. To read more
CLICK HERE.
Lilly buys 'smart insulin'
company
In July 2021 Eli Lilly and Company announced the acquisition of Protomer
Technologies ("Protomer"), a private biotech company. Protomer's
proprietary peptide- and protein-engineering platform is used to identify
and synthesize molecules that can sense glucose or other endogenous
modulators of protein activity.
Founded in 2015 and based in Pasadena, California, Protomer is
engineering next-generation protein therapeutics that can sense molecular
activators in the body. The company's proprietary chemical biology-based
platform enables the development of therapeutic peptides and proteins with
tunable activity that can be controlled using small molecules. Protomer has
used this approach toward advancing a portfolio of therapeutic candidates,
including glucose-responsive insulins that can sense sugar levels in the
blood and automatically activate as needed throughout the day.
Ruth Gimeno, vice president, diabetes research and clinical investigation
at Lilly commented, "Lilly has long strived to make life better for people
living with diabetes and we have a continued determination to provide real
solutions, including innovation in insulin therapy. Glucose-sensing insulin
is the next frontier and has the potential to revolutionize the treatment
and quality of life of people with diabetes by dramatically improving both
therapeutic efficacy and safety of insulin therapy. Protomer's glucosesensing insulin program,
based on its proprietary molecular engineering of
protein sensors (MEPS) platform, is showing significant promise and Lilly
is excited to enhance our diabetes pipeline with the company's innovative
technology."
To read more, CLICK HERE.
with preliminary data set to be
presented at the American Diabetes
Association Scientific Sessions later
this month.
"There have been few paradigmshifting
innovations in the 100
years since the discovery of insulin.
ViaCyte's portfolio of stem cellderived
therapies are first-incategory,
first-in-class products that
represent major advances in finding
a functional cure for Type 1 diabetes
and other chronic diseases in the
future," ViaCyte president and CEO
Michael Yang said in the release.
"This financing should allow us to
accelerate the development of our
three novel approaches to reduce
the burden faced by people with
Type 1 diabetes. With several of our
therapies already in the clinic, we
look forward to an exciting year of
progress in our clinical trials."
ViaCyte's stem cell-derived islet cell replacement therapies are being
developed to treat insulin-requiring diabetes.