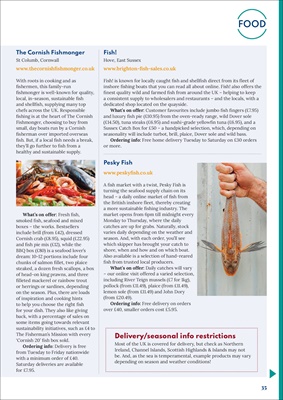 35
FOOD
The Cornish Fishmonger
St Columb, Cornwall
www.thecornishfishmonger.co.uk
With roots in cooking and as
fishermen, this family-run
fishmonger is well-known for quality,
local, in-season, sustainable fish
and shellfish, supplying many top
chefs across the UK. Responsible
fishing is at the heart of The Cornish
Fishmonger, choosing to buy from
small, day boats run by a Cornish
fisherman over imported overseas
fish. But, if a local fish needs a break,
they'll go further to fish from a
healthy and sustainable supply.
Fish!
Hove, East Sussex
Fish! is known for locally caught fish and shellfish direct from its fleet of
inshore fishing boats that you can read all about online. Fish! also offers the
finest quality wild and farmed fish from around the UK - helping to keep
a consistent supply to wholesalers and restaurants - and the locals, with a
dedicated shop located on the quayside.
What's on offer: Customer favourites include jumbo fish fingers (£7.95)
and luxury fish pie (£10.95) from the oven-ready range, wild Dover sole
(£14.50), tuna steaks (£6.95) and sushi-grade yellowfin tuna (£6.95), and a
Sussex Catch Box for £50 - a handpicked selection, which, depending on
seasonality will include turbot, brill, plaice, Dover sole and wild bass.
Ordering info: Free home delivery Tuesday to Saturday on £30 orders
or more.
Pesky Fish
A fish market with a twist, Pesky Fish is
turning the seafood supply chain on its
head - a daily online market of fish from
the British inshore fleet, thereby creating
create a more sustainable fishing industry.
The market opens from 6pm till midnight
every Monday to Thursday, where the daily
catches are up for grabs. Naturally, stock
varies daily depending on the weather and
season. And, with each order, you'll see
which skipper has brought your catch to
shore, when and how and on which boat.
Also available is a selection of hand-reared
fish from trusted local producers.
What's on offer: Daily catches will vary
- our online visit offered a varied selection,
including River Teign mussels (£7), pollock
(from £11.49), plaice (from £11.49), lemon
sole (from £11.49) and John Dory (from
£20.49).
Ordering info: Free delivery on orders
over £40, smaller orders cost £5.95.
Delivery/seasonal info restrictions
Most of the UK is covered for delivery, but check as Northern
Ireland, Channel Islands, Scottish Highlands & Islands may not
be. And, as the sea is temperamental, example products may vary
depending on season and weather conditions!
What's on offer: Fresh fish,
smoked fish, seafood and mixed
boxes - the works. Bestsellers
include brill (from £42), dressed
Cornish crab (£8.95), squid (£22.95)
and fish pie mix (£12), while the
BBQ box (£80) is a seafood lover's
dream: 10-12 portions include four
chunks of salmon fillet, two plaice
steaked, a dozen fresh scallops, a box
of head-on king prawns, and three
filleted mackerel or rainbow trout
or herrings or sardines, depending
on the season. Plus, there are loads
of inspiration and cooking hints
to help you choose the right fish
for your dish. They also like giving
back, with a percentage of sales on
some items going towards relevant
sustainability initiatives, such as £4 to
The Fisherman's Mission with every
'Cornish 20' fish box sold.
Ordering info: Delivery is free
from Tuesday to Friday nationwide
with a minimum order of £40.
Saturday deliveries are available
for £7.95.