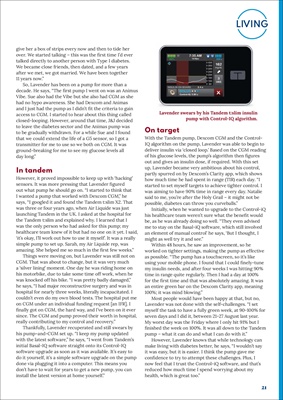 21
LIVING
give her a box of strips every now and then to tide her
over. We started talking - this was the first time I'd ever
talked directly to another person with Type I diabetes.
We became close friends, then dated, and a few years
after we met, we got married. We have been together
11 years now."
So, Lavender has been on a pump for more than a
decade. He says, "The first pump I went on was an Animus
Vibe. Sue also had the Vibe but she also had CGM as she
had no hypo awareness. She had Dexcom and Animas
and I just had the pump as I didn't fit the criteria to gain
access to CGM. I started to hear about this thing called
closed-looping. However, around that time, J&J decided
to leave the diabetes sector and the Animas pump was
to be gradually withdrawn. For a while Sue and I found
that we could extend the life of a G5 sensor, so I got a
transmitter for me to use so we both on CGM. It was
ground-breaking for me to see my glucose levels all
day long."
In tandem
However, it proved impossible to keep up with 'hacking'
sensors. It was more pressing that Lavender figured
out what pump he should go on. "I started to think that
I wanted a pump that worked with Dexcom CGM," he
says, "I googled it and found the Tandem t:slim X2. That
was three or four years ago, when Air Liquide was just
launching Tandem in the UK. I asked at the hospital for
the Tandem t:slim and explained why. I learned that I
was the only person who had asked for this pump; my
healthcare team knew of it but had no one on it yet. I said,
'it's okay, I'll work out how to use it myself'. It was a really
simple pump to set up. Sarah, my Air Liquide rep, was
amazing. She helped me so much in the first few weeks."
Things were moving on, but Lavender was still not on
CGM. That was about to change, but it was very much
a 'silver lining' moment. One day he was riding home on
his motorbike, due to take some time off work, when he
was knocked off his bike. "I was pretty badly damaged,"
he says, "I had major reconstructive surgery and was in
hospital for nearly three weeks, literally incapacitated. I
couldn't even do my own blood tests. The hospital put me
on CGM under an individual funding request [an IFR]. I
finally got on CGM, the hard way, and I've been on it ever
since. The CGM and pump proved their worth in hospital,
really contributing to my control and recovery."
Thankfully, Lavender recuperated and still swears by
his pump-and-CGM set up. "I keep my pump updated
with the latest software," he says, "I went from Tandem's
initial Basal-IQ software straight onto its Control-IQ
software upgrade as soon as it was available. It's easy to
do it yourself, it's a simple software upgrade on the pump
done via plugging it into a computer. This means you
don't have to wait for years to get a new pump, you can
install the latest version at home yourself."
On target
With the Tandem pump, Dexcom CGM and the ControlIQ
algorithm on the pump, Lavender was able to begin to
deliver insulin via 'closed loop.' Based on the CGM reading
of his glucose levels, the pump's algorithm then figures
out and gives an insulin dose, if required. With this set
up, Lavender became very ambitious about his control,
partly spurred on by Dexcom's Clarity app, which shows
how much time he had spent in range (TIR) each day. "I
started to set myself targets to achieve tighter control. I
was aiming to have 90% time in range every day. Natalie
said to me, you're after the Holy Grail - it might not be
possible, diabetes can throw you curveballs."
Initially, when he wanted to upgrade to the Control-iQ
his healthcare team weren't sure what the benefit would
be, as he was already doing so well. "They even advised
me to stay on the Basal-iQ software, which still involved
an element of manual control' he says, 'But I thought, I
might as well try it and see."
Within 48 hours, he saw an improvement, so he
worked on tighter settings, making the pump as effective
as possible. "The pump has a touchscreen, so it's like
using your mobile phone. I found that I could finely-tune
my insulin needs, and after four weeks I was hitting 90%
time in range quite regularly. Then I had a day at 100%
for the first time and that was absolutely amazing. It was
an entire green bar on the Dexcom Clarity app, meaning
100%; it was mind blowing."
Most people would have been happy at that, but no,
Lavender was not done with the self-challenges. "I set
myself the task to have a fully green week, at 90-100% for
seven days and I did it, between 21-27 August last year.
My worst day was the Friday where I only hit 91% but I
finished the week on 100%. It was all down to the Tandem
pump - what it can do and what I can do with it."
However, Lavender knows that while technology can
make living with diabetes better, he says, "I wouldn't say
it was easy, but it is easier. I think the pump gave me
confidence to try to attempt these challenges. Plus, I
now feel that I trust the Control-iQ software, and that's
reduced how much time I spend worrying about my
health, which is great too."
Lavender swears by his Tandem t:slim insulin
pump with Control-IQ algorithm.