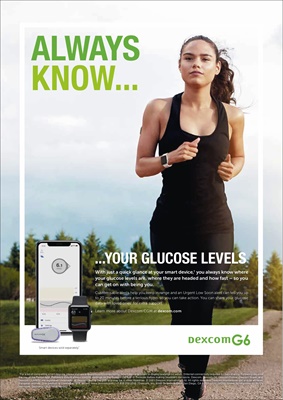 With just a quick glance at your smart device,† you always know where
your glucose levels are, where they are headed and how fast - so you
can get on with being you.
Customisable alerts help you keep in range and an Urgent Low Soon alert can tell you up
to 20 minutes before a serious hypo, so you can take action. You can share your glucose
data with loved ones† for extra support.
Learn more about Dexcom CGM at dexcom.com
Smart devices sold separately.*
*For a list of compatible smart devices, please visit www.dexcom.com/compatibility. Smart device required to display readings on watch. †Internet connectivity required for data sharing. Following requires
the use of the Follow App. Followers should always confirm readings on the Dexcom G6 App or Receiver before making treatment decisions. Dexcom, Dexcom G6, Dexcom Follow, Dexcom Share, and
Dexcom CLARITY are registered trademarks of Dexcom, Inc. in the U.S. and may be in other countries. © 2021 Dexcom International Ltd. All rights reserved. Dexcom International Ltd and its affiliated
European entities. This product is covered by U.S. patent. www.dexcom.com | +1.858.200.0200 | Dexcom, Inc. 6340 Sequence Drive San Diego, CA 92121 USA | MDSS GmbH Schiffgraben 41 30175
Hannover, Germany. LBL019216 Rev002.
...YOUR GLUCOSE LEVELS
ALWAYS
KNOW...