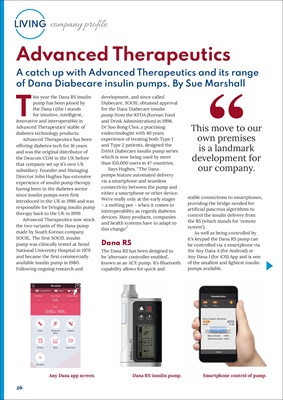 26
LIVING company profile
Advanced Therapeutics
A catch up with Advanced Therapeutics and its range
of Dana Diabecare insulin pumps. By Sue Marshall
Any Dana app screen. Dana RS insulin pump. Smartphone control of pump.
This year the Dana RS insulin
pump has been joined by
the Dana i (the i stands
for intuitive, intelligent,
innovative and interoperable) in
Advanced Therapeutics' stable of
diabetes technology products.
Advanced Therapeutics has been
offering diabetes tech for 16 years
and was the original distributor of
the Dexcom CGM in the UK before
that company set up it's own UK
subsidiary. Founder and Managing
Director John Hughes has extensive
experience of insulin pump therapy
having been in the diabetes sector
since insulin pumps were first
introduced in the UK in 1986 and was
responsible for bringing insulin pump
therapy back to the UK in 1999
Advanced Therapeutics now stock
the two variants of the Dana pump
made by South Korean company
SOOIL. The first SOOIL insulin
pump was clinically tested at Seoul
National University Hospital in 1979
and became the first commercially
available insulin pump in 1980.
Following ongoing research and
development, and since called
Diabecare, SOOIL obtained approval
for the Dana Diabecare insulin
pump from the KFDA (Korean Food
and Drink Administration) in 1998.
Dr Soo Bong Choi, a practising
endocrinologist with 40 years
experience of treating both Type 1
and Type 2 patients, designed the
DANA Diabecare insulin pump series
which is now being used by more
than 150,000 users in 47 countries.
Says Hughes, "The Dana
pumps feature automated delivery
via a smartphone and seamless
connectivity between the pump and
either a smartphone or other device.
We're really only at the early stages
- a melting pot - when it comes to
interoperability as regards diabetes
devices. Many products, companies
and health systems have to adapt to
this change."
Dana RS
The Dana RS has been designed to
be 'alternate controller enabled',
known as an ACE pump. It's Bluetooth
capability allows for quick and
stable connections to smartphones,
providing the bridge needed for
artificial pancreas algorithms to
control the insulin delivery from
the RS (which stands for 'remote
system').
As well as being controlled by
it's keypad the Dana RS pump can
be controlled via a smartphone via
the Any Dana A (for Android) or
Any Dana I (for iOS) App and is one
of the smallest and lightest insulin
pumps available.
This move to our
own premises
is a landmark
development for
our company.