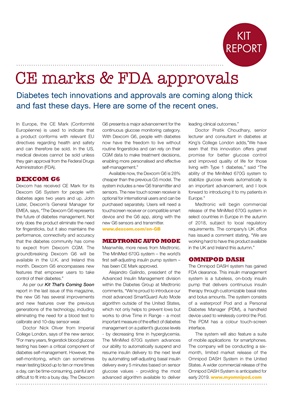 KITLIVING
KIT
REPORT
CE marks & FDA approvals
Diabetes tech innovations and approvals are coming along thick
and fast these days. Here are some of the recent ones.
In Europe, the CE Mark (Conformité
Européenne) is used to indicate that
a product conforms with relevant EU
directives regarding health and safety
and can therefore be sold. In the US,
medical devices cannot be sold unless
they gain approval from the Federal Drugs
Administration (FDA).
DEXCOM G6
Dexcom has received CE Mark for its
Dexcom G6 System for people with
diabetes ages two years and up. John
Lister, Dexcom's General Manager for
EMEA, says, "The Dexcom G6 represents
the future of diabetes management. Not
only does the product eliminate the need
for fingersticks, but it also maintains the
performance, connectivity and accuracy
that the diabetes community has come
to expect from Dexcom CGM. The
groundbreaking Dexcom G6 will be
available in the U.K. and Ireland this
month. Dexcom G6 encompasses new
features that empower users to take
control of their diabetes."
As per our Kit That's Coming Soon
report in the last issue of this magazine,
the new G6 has several improvements
and new features over the previous
generations of the technology, including
eliminating the need for a blood test to
calibrate and 10-day sensor wear.
Doctor Nick Oliver from Imperial
College London, says of the new sensor,
"For many years, fingerstick blood glucose
testing has been a critical component of
diabetes self-management. However, the
self-monitoring, which can sometimes
mean testing blood up to ten or more times
a day, can be time-consuming, painful and
difficult to fit into a busy day. The Dexcom
G6 presents a major advancement for the
continuous glucose monitoring category.
With Dexcom G6, people with diabetes
now have the freedom to live without
routine fingersticks and can rely on their
CGM data to make treatment decisions,
enabling more personalised and effective
self-management."
Available now, the Dexcom G6 is 28%
cheaper than the previous G5 model. The
system includes a new G6 transmitter and
sensors. The new touch screen receiver is
optional for international users and can be
purchased separately. Users will need a
touchscreen receiver or compatible smart
device and the G6 app, along with the
new G6 sensors and transmitter.
MEDTRONIC AUTO MODE
Meanwhile, more news from Medtronic.
The MiniMed 670G system - the world's
first self-adjusting insulin pump system -
has been CE Mark approved.
Alejandro Galindo, president of the
Advanced Insulin Management division
within the Diabetes Group at Medtronic
comments, "We're proud to introduce our
most advanced SmartGuard Auto Mode
algorithm outside of the United States,
which not only helps to prevent lows but
works to drive Time in Range - a most
important measure of the effect of diabetes
management on a patient's glucose levels
- by decreasing time in hyperglycemia.
The MiniMed 670G system advances
our ability to automatically suspend and
resume insulin delivery to the next level
by automating self-adjusting basal insulin
delivery every 5 minutes based on sensor
glucose values - providing the most
advanced algorithm available to deliver
leading clinical outcomes."
Doctor Pratik Choudhary, senior
lecturer and consultant in diabetes at
King's College London adds,"We have
seen that this innovation offers great
promise for better glucose control
and improved quality of life for those
living with Type 1 diabetes," said "The
ability of the MiniMed 670G system to
stabilize glucose levels automatically is
an important advancement, and I look
forward to introducing it to my patients in
Europe."
Medtronic will begin commercial
release of the MiniMed 670G system in
select countries in Europe in the autumn
of 2018, subject to local regulatory
requirements. The company's UK office
has issued a comment stating, "We are
working hard to have this product available
in the UK and Ireland this autumn."
OMNIPOD DASH
The Omnipod DASH system has gained
FDA clearance. This insulin management
system is a tubeless, on-body insulin
pump that delivers continuous insulin
therapy through customizable basal rates
and bolus amounts. The system consists
of a waterproof Pod and a Personal
Diabetes Manager (PDM), a handheld
device used to wirelessly control the Pod.
The PDM has a colour touch-screen
interface.
The system will also feature a suite
of mobile applications for smartphones.
The company will be conducting a sixmonth, limited
market release of the
Omnipod DASH System in the United
States. A wider commercial release of the
Omnipod DASH System is anticipated for
early 2019. www.myomnipod.com