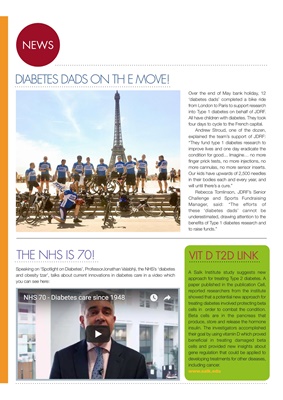 NEWS
DIABETES DADS ON TH E MOVE!
THE NHS IS 70! VIT D T2D LINK
A Salk Institute study suggests new
approach for treating Type 2 diabetes. A
paper published in the publication Cell,
reported researchers from the institute
showed that a potential new approach for
treating diabetes involved protecting beta
cells in order to combat the condition.
Beta cells are in the pancreas that
produce, store and release the hormone
insulin. The investigators accomplished
their goal by using vitamin D which proved
beneficial in treating damaged beta
cells and provided new insights about
gene regulation that could be applied to
developing treatments for other diseases,
including cancer.
Speaking on 'Spotlight on Diabetes', ProfessorJonathan Valabhji, the NHS's 'diabetes
and obesity tzar', talks about current innovations in diabetes care in a video which
you can see here:
Over the end of May bank holiday, 12
diabetes dads completed a bike ride from
London to Paris to support research into
Type 1 diabetes on behalf of JDRF. All
have children with diabetes. They took
four days to cycle to the French capital.
Andrew Stroud, one of the dozen,
explained the team's support of JDRF:
"They fund type 1 diabetes research to
improve lives and one day eradicate the
condition for good… Imagine… no more
finger prick tests, no more injections, no
more cannulas, no more sensor inserts.
Our kids have upwards of 2,500 needles
in their bodies each and every year, and
will until there's a cure."
Rebecca Tomlinson, JDRF's Senior
Challenge and Sports Fundraising
Manager, said: "The efforts of
these 'diabetes dads' cannot be
underestimated, drawing attention to the
benefits of Type 1 diabetes research and
to raise funds."