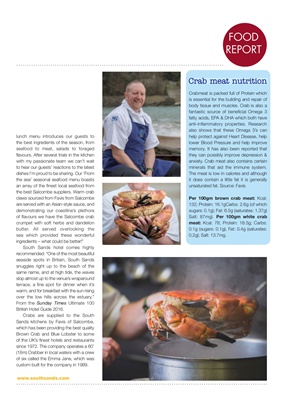 KITLIVING
FOOD
REPORT
Crabmeat is packed full of Protein which
is essential for the building and repair of
body tissue and muscles. Crab is also a
fantastic source of beneficial Omega 3
fatty acids, EPA & DHA which both have
anti-inflammatory properties. Research
also shows that these Omega 3's can
help protect against Heart Disease, help
lower Blood Pressure and help improve
memory. It has also been reported that
they can possibly improve depression &
anxiety. Crab meat also contains certain
minerals that aid the immune system.
The meat is low in calories and although
it does contain a little fat it is generally
unsaturated fat. Source: Favis
Per 100gm brown crab meat: Kcal:
132; Protein: 16.1gCarbs: 2.6g (of which
sugars: 0.1g); Fat: 6.5g (saturates: 1.37g)
Salt: 87mg). Per 100gm white crab
meat: Kcal: 78; Protein: 18.5g; Carbs:
0.1g (sugars: 0.1g); Fat: 0.4g (saturates:
0.2g); Salt: 13.7mg.
lunch menu introduces our guests to
the best ingredients of the season, from
seafood to meat, salads to foraged
flavours. After several trials in the kitchen
with my passionate team we can't wait
to hear our guests' reactions to the latest
dishes I'm proud to be sharing. Our 'From
the sea' seasonal seafood menu boasts
an array of the finest local seafood from
the best Salcombe suppliers. Warm crab
claws sourced from Favis from Salcombe
are served with an Asian-style sauce, and
demonstrating our coastline's plethora
of flavours we have the Salcombe crab
crumpet with soft herbs and dandelion
butter. All served overlooking the
sea which provided these wonderful
ingredients - what could be better!"
South Sands hotel comes highly
recommended: "One of the most beautiful
seaside spots in Britain, South Sands
snuggles right up to the beach of the
same name, and at high tide, the waves
slop almost up to the venue's wraparound
terrace, a fine spot for dinner when it's
warm, and for breakfast with the sun rising
over the low hills across the estuary."
From the Sunday Times Ultimate 100
British Hotel Guide 2016.
Crabs are supplied to the South
Sands kitchens by Favis of Salcombe,
which has been providing the best quality
Brown Crab and Blue Lobster to some
of the UK's finest hotels and restaurants
since 1972. The company operates a 60'
(18m) Crabber in local waters with a crew
of six called the Emma Jane, which was
custom built for the company in 1989.
Crab meat nutrition