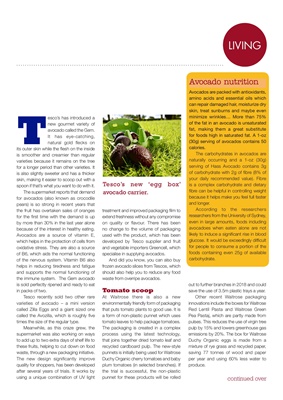 KITLIVING
continued over
Tesco's has introduced a
new gourmet variety of
avocado called the Gem.
It has eye-catching,
natural gold flecks on
its outer skin while the flesh on the inside
is smoother and creamier than regular
varieties because it remains on the tree
for a longer period than other varieties. It
is also slightly sweeter and has a thicker
skin, making it easier to scoop out with a
spoon if that's what you want to do with it.
The supermarket reports that demand
for avocados (also known as crocodile
pears) is so strong in recent years that
the fruit has overtaken sales of oranges
for the first time with the demand is up
by more than 30% in the last year alone
because of the interest in healthy eating.
Avocados are a source of vitamin E,
which helps in the protection of cells from
oxidative stress. They are also a source
of B6, which aids the normal functioning
of the nervous system. Vitamin B6 also
helps in reducing tiredness and fatigue
and supports the normal functioning of
the immune system. The Gem avocado
is sold perfectly ripened and ready to eat
in packs of two.
Tesco recently sold two other rare
varieties of avocado - a mini version
called Zilla Eggs and a giant sized one
called the Avozilla, which is roughly five
times the size of the regular type.
Meanwhile, as this craze grew, the
supermarket was also working on ways
to add up to two extra days of shelf life to
these fruits, helping to cut down on food
waste, through a new packaging initiative.
The new design significantly improve
quality for shoppers, has been developed
after several years of trials. It works by
using a unique combination of UV light
treatment and improved packaging film to
extend freshness without any compromise
on quality or flavour. There has been
no change to the volume of packaging
used with the product, which has been
developed by Tesco supplier and fruit
and vegetable importers Greencell, which
specialise in supplying avocados.
And did you know, you can also buy
frozen avocado slices from Tescos, which
should also help you to reduce any food
waste from overripe avocados.
Tomato scoop
At Waitrose there is also a new
environmentally friendly form of packaging
that puts tomato plants to good use. It is
a form of non-plastic punnet which uses
tomato leaves to help package tomatoes.
The packaging is created in a complex
process using the latest technology,
that joins together dried tomato leaf and
recycled cardboard pulp. The new-style
punnets is initially being used for Waitrose
Duchy Organic cherry tomatoes and baby
plum tomatoes (in selected branches). If
the trial is successful, the non-plastic
punnet for these products will be rolled
Avocados are packed with antioxidants,
amino acids and essential oils which
can repair damaged hair, moisturize dry
skin, treat sunburns and maybe even
minimize wrinkles… More than 75%
of the fat in an avocado is unsaturated
fat, making them a great substitute
for foods high in saturated fat. A 1-oz
(30g) serving of avocados contains 50
calories.
The carbohydrates in avocados are
naturally occurring and a 1-oz (30g)
serving of Hass Avocado contains 3g
of carbohydrate with 2g of fibre (8% of
your daily recommended value). Fibre
is a complex carbohydrate and dietary
fibre can be helpful in controlling weight
because it helps make you feel full faster
and longer.
According to the researchers
researchers from the University of Sydney,
even in large amounts, foods including
avocadoes when eaten alone are not
likely to induce a significant rise in blood
glucose. It would be exceedingly difficult
for people to consume a portion of the
foods containing even 25g of available
carbohydrate.
Avocado nutrition
out to further branches in 2018 and could
save the use of 3.5m plastic trays a year.
Other recent Waitrose packaging
innovations include the boxes for Waitrose
Red Lentil Pasta and Waitrose Green
Pea Pastaj, which are partly made from
pulses. This reduces the use of virgin tree
pulp by 15% and lowers greenhouse gas
emissions by 20%. The box for Waitrose
Duchy Organic eggs is made from a
mixture of rye grass and recycled paper,
saving 77 tonnes of wood and paper
per year and using 60% less water to
produce.
Tesco's new 'egg box'
avocado carrier.