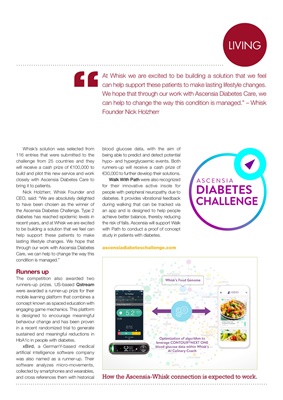 KITLIVING
At Whisk we are excited to be building a solution that we feel
can help support these patients to make lasting lifestyle changes.
We hope that through our work with Ascensia Diabetes Care, we
can help to change the way this condition is managed." - Whisk
Founder Nick Holzherr"
Whisk's solution was selected from
116 entries that were submitted to the
challenge from 25 countries and they will
receive a cash prize of €100,000 to build
and pilot this new service and working
closely with Ascensia Diabetes Care to
bring it to patients.
Nick Holzherr, Whisk Founder and
CEO, said: "We are absolutely delighted
to have been chosen as the winner of
the Ascensia Diabetes Challenge. Type 2
diabetes has reached epidemic levels in
recent years, and at Whisk we are excited
to be building a solution that we feel can
help support these patients to make
lasting lifestyle changes. We hope that
through our work with Ascensia Diabetes
Care, we can help to change the way this
condition is managed."
Runners up
The competition also awarded two
runners-up prizes. US-based Qstream
were awarded a runner-up prize for their
mobile learning platform that combines a
concept known as spaced education with
engaging game mechanics. This platform
is designed to encourage meaningful
behaviour change and has been proven
in a recent randomized trial to generate
sustained and meaningful reductions in
HbA1c in people with diabetes.
xBird, a GermanY-based medical
artificial intelligence software company
was also named as a runner-up. Their
software analyzes micro-movements,
collected by smartphones and wearables,
and cross references them with historical
blood glucose data, with the aim of
being able to predict and detect potential
hypo- and hyperglycaemic events. Both
runners-up will receive a cash prize of
€30,000 to further develop their solutions.
Walk With Path were also recognized
for their innovative active insole for
people with peripheral neuropathy due to
diabetes. It provides vibrational feedback
during walking that can be tracked via
an app and is designed to help people
achieve better balance, thereby reducing
the risk of falls. Ascensia will support Walk
with Path to conduct a proof of concept
study in patients with diabetes.
ascensiadiabeteschallenge.com
How the Ascensia-Whisk connection is expected to work..