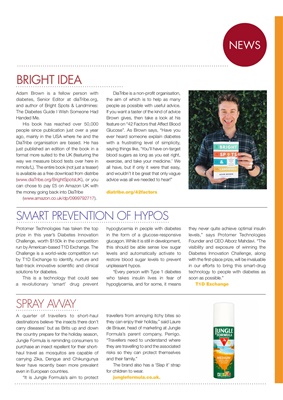 NEWS
SMART PREVENTION OF HYPOS
BRIGHT IDEA
A quarter of travellers to short-haul
destinations believe 'the insects there don't
carry diseases' but as Brits up and down
the country prepare for the holiday season,
Jungle Formula is reminding consumers to
purchase an insect repellent for their shorthaul travel as mosquitos are
capable of
carrying Zika, Dengue and Chikungunya
fever have recently been more prevalent
even in European countries.
"It is Jungle Formula's aim to protect
LITTLE SQUIRT
Adam Brown is a fellow person with
diabetes, Senior Editor at diaTribe.org,
and author of Bright Spots & Landmines:
The Diabetes Guide I Wish Someone Had
Handed Me.
His book has reached over 50,000
people since publication just over a year
ago, mainly in the USA where he and the
DiaTribe organisation are based. He has
just published an edition of the book in a
format more suited to the UK (featuring the
way we measure blood tests over here in
mmols/L). The entire book (not just a teaser)
is available as a free download from diatribe
(www.diatribe.org/brightspotsuk), or you
can chose to pay £5 on Amazon UK with
the money going back into DiaTribe
(www.amazon.co.uk/dp/0999792717).
DiaTribe is a non-profit organisation,
the aim of which is to help as many
people as possible with useful advice.
If you want a taster of the kind of advice
Brown gives, then take a look at his
feature on "42 Factors that Affect Blood
Glucose". As Brown says, "Have you
ever heard someone explain diabetes
with a frustrating level of simplicity,
saying things like, 'You'll have on-target
blood sugars as long as you eat right,
exercise, and take your medicine.' We
all have, but if only it were that easy,
and wouldn't it be great that only vague
advice was all we needed to hear!"
diatribe.org/42factors
Protomer Technologies has taken the top
prize in this year's 2 Diabetes Innovation
Challenge, worth $150k in the competition
run by American-based T1D Exchange. The
Challenge is a world-wide competition run
by T1D Exchange to identify, nurture and
fast-track innovative scientific and clinical
solutions for diabetes.
This is a technology that could see
a revolutionary 'smart' drug prevent
hypoglycemia in people with diabetes
in the form of a glucose-responsive
glucagon. While it is still in development,
this should be able sense low sugar
levels while automatically activate to
restore blood sugar levels to prevent
unpleasant hypos.
"Every person with Type 1 diabetes
who takes insulin lives in fear of
hypoglycemia, and for some, it means
they never quite achieve optimal insulin
levels," says Protomer Technologies
Founder and CEO Alborz Mahdavi. "The
visibility and exposure of winning the
Diabetes Innovation Challenge, along
with the first-place prize, will be invaluable
in our efforts to bring this smart-drug
technology to people with diabetes as
soon as possible."
T1D Exchange
travellers from annoying itchy bites so
they can enjoy their holiday," said Laure
de Brauer, head of marketing at Jungle
Formula's parent company, Perrigo.
"Travellers need understand where
they are travelling to and the risks so
they can protect themselves and their
family."
The brand also has a 'Slap it' strap
for children to wear.
jungleformula.co.uk.