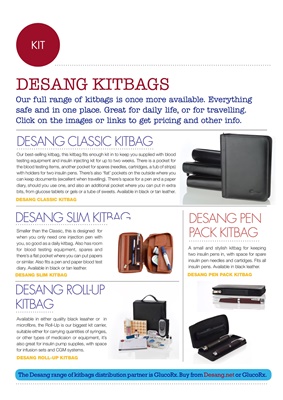 KIT
DESANG CLASSIC KITBAG
DESANG SLIM KITBAG
DESANG KITBAGS
Our full range of kitbags is once more available. Everything
safe and in one place. Great for daily life, or for travelling.
Click on the images or links to get pricing and other info.
Our best-selling kitbag, this kitbag fits enough kit in to keep you supplied with blood
testing equipment and insulin injecting kit for up to two weeks. There is a pocket for
the blood testing items, another pocket for spares (needles, cartridges, a tub of strips)
with holders for two insulin pens. There's also 'flat' pockets on the outside where you
can keep documents (excellent when travelling). There's space for a pen and a paper
diary, should you use one, and also an additional pocket where you can put in extra
bits, from glucose tablets or gels or a tube of sweets. Available in black or tan leather.
Smaller than the Classic, this is designed for
when you only need one injection pen with
you, so good as a daily kitbag. Also has room
for blood testing equipment, spares and
there's a flat pocket where you can put papers
or similar. Also fits a pen and paper blood test
diary. Available in black or tan leather.
DESANG PEN
PACK KITBAG
A small and stylish kitbag for keeping
two insulin pens in, with space for spare
insulin pen needles and cartidges. Fits all
insulin pens. Available in black leather.
DESANG ROLL-UP
KITBAG
Available in either quality black leaaher or in
microfibre, the Roll-Up is our biggest kit carrier,
suitable either for carrying quantities of syringes,
or other types of medicaion or equipment, it's
also great for insulin pump supplies, with space
for infusion sets and CGM systems.
The Desang range of kitbags distribution partner is GlucoRx. Buy from Desang.net or GlucoRx.
DESANG PEN PACK KITBAG
DESANG SLIM KITBAG
DESANG CLASSIC KITBAG
DESANG ROLL-UP KITBAG