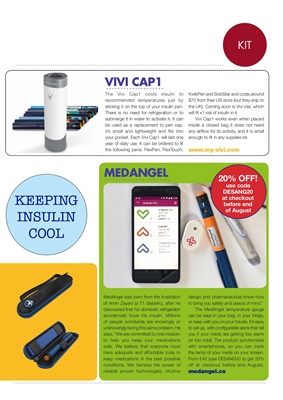 KIT
MEDANGEL
MedAngel was born from the frustration
of Amin Zayani (a T1 diabetic), after he
discovered that his domestic refrigerator
accidentally froze his insulin. Millions
of people worldwide are knowingly or
unknowingly facing this same problem. He
says, "We are committed to one mission:
to help you keep your medications
safe. We believe that everyone must
have adequate and affordable tools to
keep medications in the best possible
conditions. We harness the power of
reliable proven technologies, intuitive
design and pharmaceutical know-how
to bring you safety and peace of mind."
The MedAngel temperature gauge
can be kept in your bag, in your fridge,
or keep with you on your travels. It's easy
to set up, with configurable alerts that tell
you if your meds are getting too warm
(or too cold). The product synchronizes
with smartphones, so you can track the
temp of your meds on your screen. From
VIVI CAP1
The Vivi Cap1 cools insulin to
recommended temperatures just by
sticking it on the top of your insulin pen.
There is no need for refrigeration or to
submerge it in water to activate it. It can
be used as a replacement to pen cap,
it's small and lightweight and fits into
your pocket. Each Vivi Cap1 will last one
year of daily use. It can be ordered to fit
the following pens: FlexPen, FlexTouch, KwikPen and SoloStar and costs around
$70 from their US store (but they ship to
the UK). Coming soon is Vivi Vial, which
will fit x1 vial of insulin in it.
Vivi Cap1 works even when placed
inside a closed bag it does not need
any airflow for its activity, and it is small
enough to fit in any supplies kit.
KEEPING
INSULIN
COOL