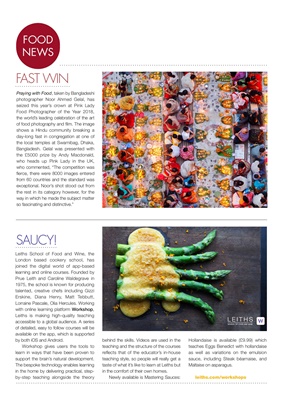 LIVINGLIVING
FOOD
NEWS
SAUCY!
FAST WIN
Praying with Food, taken by Bangladeshi
photographer Noor Ahmed Gelal, has
seized this year's crown at Pink Lady
Food Photographer of the Year 2018,
the world's leading celebration of the art
of food photography and film. The image
shows a Hindu community breaking a
day-long fast in congregation at one of
the local temples at Swamibag, Dhaka,
Bangladesh. Gelal was presented with
the £5000 prize by Andy Macdonald,
who heads up Pink Lady in the UK,
who commented, "The competition was
fierce, there were 8000 images entered
from 60 countries and the standard was
exceptional. Noor's shot stood out from
the rest in its category however, for the
way in which he made the subject matter
so fascinating and distinctive."
Leiths School of Food and Wine, the
London based cookery school, has joined
the digital world of app-based learning and
online courses. Founded by Prue Leith
and Caroline Waldegrave in 1975, the
school is known for producing talented,
creative chefs iincluding Gizzi Erskine,
Diana Henry, Matt Tebbutt, Lorraine
Pascale, Olia Hercules. Working with
online learning platform Workshop, Leiths
is making high-quality teaching accessible
to a global audience. A series of detailed,
easy to follow courses will be available on
the app, which is supported by both iOS
and Android.
Workshop gives users the tools to
learn in ways that have been proven to
support the brain's natural development.
The bespoke technology enables learning
in the home by delivering practical, stepby-step teaching alongside the theory
behind the skills. Videos are used in the
teaching and the structure of the courses
reflects that of the educator's in-house
teaching style, so people will really get a
taste of what it's like to learn at Leiths but
in the comfort of their own homes.
Newly available is Mastering Sauces:
Hollandaise is available (£9.99) which
teaches Eggs Benedict with hollandaise
as well as variations on the emulsion
sauce, including Steak béarnaise, and
Maltaise on asparagus.
leiths.com/workshops