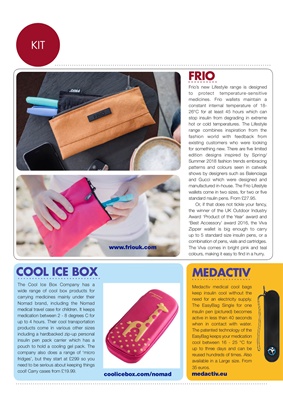 KIT
MEDACTIV
Medactiv medical cool bags
keep insulin cool without the
need for an electricity supply.
The EasyBag Single for one
insulin pen (pictured) becomes
active in less than 40 seconds
when in contact with water.
The patented technology of the
EasyBag keeps your medication
cool between 16 - 25 °C for
up to three days and can be
reused hundreds of times. Also
available in a Large size. From
35 euros. tiv.com
medactiv.eu
The Cool Ice Box Company has a
wide range of cool box products for
carrying medicines mainly under their
Nomad brand, including the Nomad
medical travel case for children. It keeps
medication between 2 - 8 degrees C for
up to 4 hours. Their cool transportation
products come in various other sizes
including a hardbacked zip-up personal
insulin pen pack carrier which has a
pouch to hold a cooling gel pack. The
company also does a range of 'micro
fridges', but they start at £299 so you
need to be serious about keeping things
cool! Carry cases from £19.99.
COOL ICE BOX coolicebox.com/nomad
FRIO
Frio's new Lifestyle range is designed
to protect temperature-sensitive
medicines. Frio wallets maintain a
constant internal temperature of 1826°C for at least 45 hours which can
stop insulin from degrading in extreme
hot or cold temperatures. The Lifestyle
range combines inspiration from the
fashion world with feedback from
existing customers who were looking
for something new. There are five limited
edition designs inspired by Spring/
Summer 2018 fashion trends embracing
patterns and colours seen in catwalk
shows by designers such as Balenciaga
and Gucci which were designed and
manufactured in-house. The Frio Lifestyle
wallets come in two sizes, for two or five
standard nsulin pens. From £27.95.
Or, if that does not tickle your fancy,
the winner of the UK Outdoor Industry
Award 'Product of the Year' award and
'Best Accessory' award 2016, the Viva
Zipper wallet is big enough to carry
up to 5 standard size insulin pens, or a
combination of pens, vials and cartridges.
The Viva comes in bright pink and teal
colours, making it easy to find in a hurry.