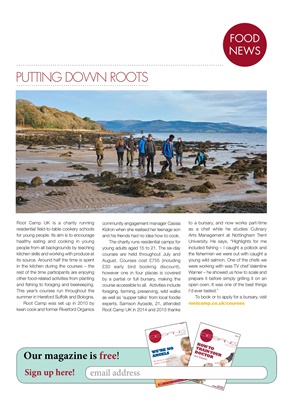 KITLIVING
FOOD
NEWS
PUTTING DOWN ROOTS
Root Camp UK is a charity running
residential field-to-table cookery schools
for young people. Its aim is to encourage
healthy eating and cooking in young
people from all backgrounds by teaching
kitchen skills and working with produce at
its source. Around half the time is spent
in the kitchen during the courses - the
rest of the time participants are enjoying
other food-related activities from planting
and fishing to foraging and beekeeping.
This year's courses run throughout the
summer in Hereford Suffolk and Bologna.
Root Camp was set up in 2010 by
keen cook and former Riverford Organics
community engagement manager Cassia
Kidron when she realised her teenage son
and his friends had no idea how to cook.
The charity runs residential camps for
young adults aged 15 to 21. The six-day
courses are held throughout July and
August. Courses cost £755 (including
£30 early bird booking discount),
however one in four places is covered
by a partial or full bursary, making the
course accessible to all. Activities include
foraging, farming, preserving, wild walks
as well as 'supper talks' from local foodie
experts. Samson Ayoade, 21, attended
Root Camp UK in 2014 and 2015 thanks
ISSUE 30
MAGAZINE
DESANG
PLUS • New Products • Groovy giveaways • News (for T1 and T2)
WE'RE NO
ANGELS
But business as usual is best for
diabetics at Christmas
MAKING
CARBS COUNT:
CHESTNUTS ROASTING
ON OPEN FIRES
Our magazine is free!
Sign up here! email address
to a bursary, and now works part-time
as a chef while he studies Culinary
Arts Management at Nottingham Trent
University. He says, "Highlights for me
included fishing - I caught a pollock and
the fishermen we were out with caught a
young wild salmon. One of the chefs we
were working with was TV chef Valentine
Warner - he showed us how to scale and
prepare it before simply grilling it on an
open oven. It was one of the best things
I'd ever tasted."
To book or to apply for a bursary, visit
rootcamp.co.uk/courses