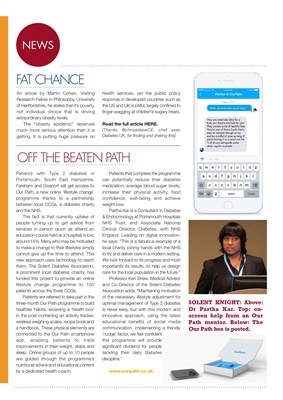 NEWS
An article by Martin Cohen, Visiting
Research Fellow in Philosophy, University
of Hertfordshire, he states that it's poverty,
not individual choice that is driving
extraordinary obesity levels.
The "obesity epidemic" deserves
much more serious attention than it is
getting. It is putting huge pressure on
FAT CHANCE
health services, yet the public policy
response in developed countries such as
the US and UK is pitiful, largely confined to
finger-wagging at children's sugary treats.
Read the full article HERE.
[Thanks @chrisaskewCE, chef exec
Diabetes UK, for finding and sharing this]
Patients with Type 2 diabetes in
Portsmouth, South East Hampshire,
Fareham and Gosport will get access to
Our Path, a new online 'lifestyle change'
programme thanks to a partnership
between local CCGs, a diabetes charity
and the NHS.
The fact is that currently uptake of
people turning up to get advice from
services in person (such as attend an
education course held at a hospital) is low,
around 14%. Many who may be motivated
to make a change to their lifestyles simply
cannot give up the time to attend. This
new approach uses technology to reach
them. The Solent Diabetes Association,
a prominent local diabetes charity, has
funded this project to provide an online
lifestyle change programme to 150
patients across the three CCGs.
Patients are referred to take part in the
three-month Our Path programme to build
healthier habits, receiving a 'health box'
in the post containing an activity tracker,
wireless weighing scales, recipe book and
a handbook. These physical elements are
connected to the Our Path smartphone
app, enabling patients to track
improvements in their weight, steps and
sleep. Online groups of up to 10 people
are guided through the programme's
nutritional advice and educational content
by a dedicated health-coach.
Patients that complete the programme
can potentially reduce their diabetes
medication, average blood sugar levels,
increase their physical activity, food
confidence, well-being and achieve
weight loss.
Partha Kar is a Consultant in Diabetes
& Endocrinology at Portsmouth Hospitals
NHS Trust and Associate National Clinical
Director, Diabetes with NHS England
leading on digital innovation. He says:
"This is a fabulous example of a local
charity joining hands with the NHS to try
and deliver care in a modern setting. We
look forward to its progress and most
importantly results- to help us design care
for the local population in the future."
Professor Ken Shaw, Medical Advisor
and Co-Director of the Solent Diabetes
Association adds, "Maintaining motivation
of the necessary lifestyle adjustment for
optimal management of Type 2 diabetes
is never easy, but with this modern and
innovative approach, using the latest
educational benefits of social media
communication, implementing a friendly
'nudge' factor, we feel confident
this programme will provide
significant dividend for people
tackling their daily diabetes
discipline."
OFF THE BEATEN PATH
SOLENT KNIGHT: Above:
Dr Partha Kar. Top: onscreen help from an Our
Path mentor. Below: The
Our Path box is posted.