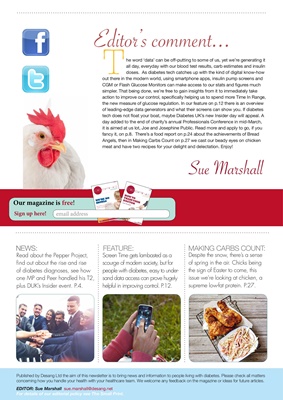 Published by Desang Ltd the aim of this newsletter is to bring news and information to people living with diabetes. Please check all matters
concerning how you handle your health with your healthcare team. We welcome any feedback on the magazine or ideas for future articles.
EDITOR: Sue Marshall sue.marshall@desang.net
For details of our editorial policy see The Small Print.
Read about the Pepper Project,
find out about the rise and rise
of diabetes diagnoses, see how
one MP and Peer handled his T2,
plus DUK's Insider event. P.4.
Sue Marshall
Despite the snow, there's a sense
of spring in the air. Chicks being
the sign of Easter to come, this
issue we're looking at chicken, a
supreme low-fat protein. P.27.
The word 'data' can be off-putting to some of us yet we're generating it
all day, everday with our blood test results, carb estimates and insulin
doses. As diabetes tech catches up with the kind of digital knowhow,
using smartphone apps, insulin pump screens and CGM or Flash Glucose
Monitors can make access to our stats and figures so much simpler. And that
being done, we're free to gain insights from it to immediately take action to improve
our control, specifically helping us to spend more Time In Range, the new measure
of glucose regulation. In our feature on p. 12 there is an overview of leading-edge
data generators and what the data looks like on-screen.
Editor's comment...
ISSUE 30
MAGAZINE
DESANG
PLUS • New Products • Groovy giveaways • News (for T1 and T2)
WE'RE NO
ANGELS
But business as usual is best for
diabetics at Christmas
MAKING
CARBS COUNT:
CHESTNUTS ROASTING
ON OPEN FIRES
Our magazine is free!
Sign up here! email address
FEATURE:
Screen Time gets lambasted as a
scourge of modern society, but for
people with diabetes, easy to undersand data access can prove hugely
helpful in improving control. P.12.
NEWS: MAKING CARBS COUNT: