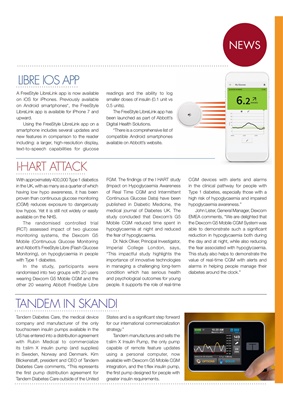 NEWS
LIBRE IOS APP
I-HART ATTACK
A FreeStyle LibreLink app is now available
on iOS for iPhones. Previously available
on Android smartphones*, the FreeStyle
LibreLink app is available for iPhone 7 and
upward.
Using the FreeStyle LibreLink app on a
smartphone includes several updates and
new features in comparison to the reader
including: a larger, high-resolution display,
text-to-speech capabilities for glucose
readings and the ability to log
smaller doses of insulin (0.1 unit vs
0.5 units).
The FreeStyle LibreLink app has
been launched as part of Abbott's
Digital Health Solutions.
*There is a comprehensive list of
compatible Android smartphones
available on Abbott's website.
With approximately 400,000 Type 1 diabetics
in the UK, with as many as a quarter of which
having low hypo awareness, it has been
proven than continuous glucose monitoring
(CGM) reduces exposure to dangerously
low hypos. Yet it is still not widely or easily
available on the NHS.
The randomised controlled trial
(RCT) assessed impact of two glucose
monitoring systems, the Dexcom G5
Mobile (Continuous Glucose Monitoring
and Abbott's FreeStyle Libre (Flash Glucose
Monitoring), on hypoglycaemia in people
with Type 1 diabetes.
In the study, participants were
randomised into two groups with 20 users
wearing Dexcom G5 Mobile CGM and the
other 20 wearing Abbott FreeStyle Libre
Tandem Diabetes Care, the medical device
company and manufacturer of the only
touchscreen insulin pumps available in the
US has entered into a distribution agreement
with Rubin Medical to commercialize
its t:slim X insulin pump (and supplies)
in Sweden, Norway and Denmark. Kim
Blickenstaff, president and CEO of Tandem
Diabetes Care comments, "This represents
the first pump distribution agreement for
Tandem Diabetes Care outside of the United
TANDEM IN SKANDI
States and is a significant step forward
for our international commercialization
strategy."
Tandem manufactures and sells the
t:slim X Insulin Pump, the only pump
capable of remote feature updates
using a personal computer, now
available with Dexcom G5 Mobile CGM
integration, and the t:flex insulin pump,
the first pump designed for people with
greater insulin requirements.
FGM. The findings of the I HART study
(Impact on Hypoglycaemia Awareness
of Real Time CGM and Intermittent
Continuous Glucose Data) have been
published in Diabetic Medicine, the
medical journal of Diabetes UK. The
study concluded that Dexcom's G5
Mobile CGM reduced time spent in
hypoglycaemia at night and reduced
the fear of hypoglycaemia.
Dr. Nick Oliver, Principal Investigator,
Imperial College London, says,
"This impactful study highlights the
importance of innovative technologies
in managing a challenging long-term
condition which has serious health
and psychological outcomes for young
people. It supports the role of real-time
CGM devices with alerts and alarms
in the clinical pathway for people with
Type 1 diabetes, especially those with a
high risk of hypoglycaemia and impaired
hypoglycaemia awareness."
John Lister, General Manager, Dexcom
EMEA comments, "We are delighted that
the Dexcom G5 Mobile CGM System was
able to demonstrate such a significant
reduction in hypoglycaemia both during
the day and at night, while also reducing
the fear associated with hypoglycaemia.
This study also helps to demonstrate the
value of real-time CGM with alerts and
alarms in helping people manage their
diabetes around the clock."