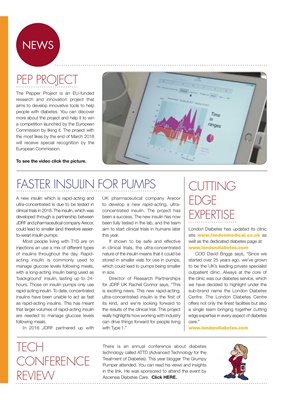 NEWS
PEP PROJECT
The Pepper Project is an EU-funded
research and innovation project that
aims to develop innovative tools to help
people with diabetes. You can discover
more about the project and help it to win
a competition launched by the European
Commission by liking it. The project with
the most likes by the end of March 2018
will receive special recognition by the
European Commission.
To see the video click the picture.
FASTER INSULIN FOR PUMPS
A new insulin which is rapid-acting and
ultra-concentrated is due to be tested in
clinical trials in 2018. The insulin, which was
developed through a partnership between
JDRF and pharmaceutical company Arecor,
could lead to smaller (and therefore easierto-wear) insulin pumps.
Most people living with T1D are on
injections an use a mix of different types
of insulins throughout the day. Rapidacting
insulin is commonly used to
manage glucose levels following meals,
with a long-acting insulin being used as
'background' insulin, lasting up to 24-
hours. Those on insulin pumps only use
rapid-acting insulin. To date, concentrated
insulins have been unable to act as fast
as rapid-acting insulins. This has meant
that larger volumes of rapid-acting insulin
are needed to manage glucose levels
following meals.
In 2016 JDRF partnered up with
UK pharmaceutical company Arecor
to develop a new rapid-acting, ultraconcentrated insulin. The project
has
been a success. The new insulin has now
been fully tested in the lab, and the team
aim to start clinical trials in humans later
this year.
If shown to be safe and effective
in clinical trials, the ultra-concentrated
nature of the insulin means that it could be
stored in smaller vials for use in pumps,
which could lead to pumps being smaller
in size.
Director of Research Partnerships
for JDRF UK Rachel Connor says, "This
is exciting news. This new rapid-acting,
ultra-concentrated insulin is the first of
its kind, and we're looking forward to
the results of the clinical trial. This project
really highlights how working with industry
can drive things forward for people living
with Type 1."
There is an annual conference about diabetes
technology called ATTD (Advanced Technology for the
Treatment of Diabetes). This year blogger The Grumpy
Pumper attended. You can read his views and insights
in the link. He was sponsored to attend the event by
Ascensia Diabetes Care. Click HERE.
TECH
CONFERENCE
REVIEW
London Diabetes has updated its clinic
site www.londonmedical.co.uk as
well as the dedicated diabetes page at
COO David Briggs says, "Since we
started over 25 years ago, we've grown
to be the UK's leading private specialist
outpatient clinic. Always at the core of
the clinic was our diabetes service, which
we have decided to highlight under the
sub-brand name the London Diabetes
Centre. The London Diabetes Centre
offers not only the finest facilities but also
a single team bringing together cutting
edge expertise in every aspect of diabetes
care."
CUTTING
EDGE
EXPERTISE