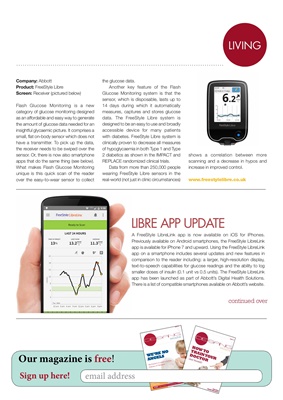 KITLIVING
Company: Abbott
Product: FreeStyle Libre
Screen: Receiver (pictured below)
Flash Glucose Monitoring is a new
category of glucose monitoring designed
as an affordable and easy way to generate
the amount of glucose data needed for an
insightful glycaemic picture. It comprises a
small, flat on-body sensor which does not
have a transmitter. To pick up the data,
the receiver needs to be swiped over the
sensor. Or, there is now also smartphone
apps that do the same thing (see below).
What makes Flash Glucose Monitoring
unique is this quick scan of the reader
over the easy-to-wear sensor to collect
A FreeStyle LibreLink app is now available on iOS for iPhones.
Previously available on Android smartphones, the FreeStyle LibreLink
app is available for iPhone 7 and upward. Using the FreeStyle LibreLink
app on a smartphone includes several updates and new features in
comparison to the reader including: a larger, high-resolution display,
text-to-speech capabilities for glucose readings and the ability to log
smaller doses of insulin (0.1 unit vs 0.5 units). The FreeStyle LibreLink
app has been launched as part of Abbott's Digital Health Solutions.
There is a list of compatible smartphones available on Abbott's website.
Click here to view: CLICK HERE.
LIBRE APP UPDATE
the glucose data.
Another key feature of the Flash
Glucose Monitoring system is that the
sensor, which is disposable, lasts up to
14 days during which it automatically
measures, captures and stores glucose
data. The FreeStyle Libre system is
designed to be an easy to use and broadly
accessible device for many patients
with diabetes. FreeStyle Libre system is
clinically proven to decrease all measures
of hypoglycaemia in both Type 1 and Type
2 diabetics as shown in the IMPACT and
REPLACE randomized clinical trials.
Data from more than 250,000 people
wearing FreeStyle Libre sensors in the
real-world (not just in clinic circumstances)
shows a correlation between more
scanning and a decrease in hypos and
increase in improved control.
continued over
ISSUE 30
MAGAZINE
DESANG
PLUS • New Products • Groovy giveaways • News (for T1 and T2)
WE'RE NO
ANGELS
But business as usual is best for
diabetics at Christmas
MAKING
CARBS COUNT:
CHESTNUTS ROASTING
ON OPEN FIRES
Our magazine is free!
Sign up here! email address