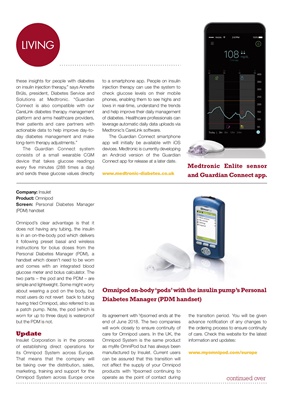 LIVINGLIVING
these insights for people with diabetes
on insulin injection therapy," says Annette
Brüls, president, Diabetes Service and
Solutions at Medtronic. "Guardian
Connect is also compatible with our
CareLink diabetes therapy management
platform and arms healthcare providers,
their patients and care partners with
actionable data to help improve day-today diabetes management and make
long-term therapy adjustments."
The Guardian Connect system
consists of a small wearable CGM
device that takes glucose readings
every five minutes (288 times a day)
and sends these glucose values directly
Omnipod on-body 'pods' with the insulin pump's Personal
Diabetes Manager (PDM handset)
Company: Insulet
Product: Omnipod
Screen: Personal Diabetes Manager
(PDM) handset
Omnipod's clear advantage is that it
does not having any tubing, the insulin
is in an on-the-body pod which delivers
it following preset basal and wireless
instructions for bolus doses from the
Personal Diabetes Manager (PDM), a
handset which doesn't need to be worn
and comes with an integrated blood
glucose meter and bolus calculator. The
two parts - the pod and the PDM - are
simple and lightweight. Some might worry
about wearing a pod on the body, but
most users do not revert back to tubing
having tried Omnipod, also referred to as
a patch pump. Note, the pod (which is
worn for up to three days) is waterproof
but the PDM is not.
Update
Insulet Corporation is in the process
of establishing direct operations for
its Omnipod System across Europe.
That means that the company will
be taking over the distribution, sales,
marketing, training and support for the
Omnipod System across Europe once continued over
to a smartphone app. People on insulin
injection therapy can use the system to
check glucose levels on their mobile
phones, enabling them to see highs and
lows in real-time, understand the trends
and help improve their daily management
of diabetes. Healthcare professionals can
leverage automatic daily data uploads via
Medtronic's CareLink software.
The Guardian Connect smartphone
app will initially be available with iOS
devices. Medtronic is currently developing
an Android version of the Guardian
Connect app for release at a later date.
its agreement with Ypsomed ends at the
end of June 2018. The two companies
will work closely to ensure continuity of
care for Omnipod users. In the UK, the
Omnipod System is the same product
as mylife OmniPod but has always been
manufactured by Insulet. Current users
can be assured that this transition will
not affect the supply of your Omnipod
products with Ypsomed continuing to
operate as the point of contact during
the transition period. You will be given
advance notification of any changes to
the ordering process to ensure continuity
of care. Check this website for the latest
information and updates:
Medtronic Enlite sensor
and Guardian Connect app.