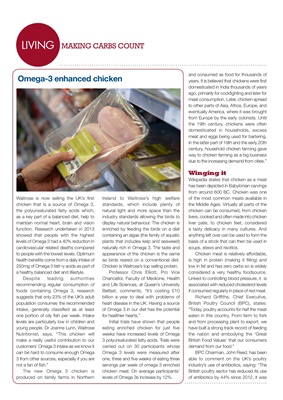 LIVINGLIVING
and consumed as food for thousands of
years. It is believed that chickens were first
domesticated in India thousands of years
ago, primarily for cockfighting and later for
meat consumption. Later, chicken spread
to other parts of Asia, Africa, Europe, and
eventually America, where it was brought
from Europe by the early colonists. Until
the 19th century, chickens were often
domesticated in households, excess
meat and eggs being used for bartering.
In the latter part of 19th and the early 20th
century, household chicken farming gave
way to chicken farming as a big business
due to the increasing demand from cities."
Winging it
Wikipedia states that chicken as a meat
has been depicted in Babylonian carvings
from around 600 BC. Chicken was one
of the most common meats available in
the Middle Ages. Virtually all parts of the
chicken can be consumed, from chicken
livers, cooked and often made into chicken
liver pate, to chicken feet, considered
a tasty delicacy in many cultures. And
anything left over can be used to form the
basis of a stock that can then be used in
soups, stews and risottos.
Chicken meat is relatively affordable,
is high in protein (making it filling) and
low in fat and has zero carbs so is widely
considered a very healthy foodsource.
Linked to controlling blood pressure, it is
associated with reduced cholesterol levels
if consumed regularly in place of red meat.
Richard Griffiths, Chief Executive,
British Poultry Council (BPC), states:
"Today, poultry accounts for half the meat
eaten in this country. From farm to fork
and from processing plant to export, we
have built a strong track record of feeding
the nation and embodying the 'Great
British Food Values' that our consumers
demand from our food."
BPC Chairman, John Reed, has been
able to comment on the UK's poultry
industry's use of antibiotics, saying: "The
British poultry sector has reduced its use
of antibiotics by 44% since 2012, it was
Waitrose is now selling the UK's first
chicken that is a source of Omega 3,
the polyunsaturated fatty acids which,
as a key part of a balanced diet, help to
maintain normal heart, brain and vision
function. Research undertaken in 2013
showed that people with the highest
levels of Omega 3 had a 40% reduction in
cardiovascular related deaths compared
to people with the lowest levels. Optimum
health benefits come from a daily intake of
250mg of Omega 3 fatt¬y acids as part of
a healthy balanced diet and lifestyle.
Despite leading authorities
recommending regular consumption of
foods containing Omega 3, research
suggests that only 23% of the UK's adult
population consumes the recommended
intake, generally classified as at least
one portion of oily fish per week. Intake
levels are particularly low in children and
young people. Dr Joanne Lunn, Waitrose
Nutritionist, says, "This chicken will
make a really useful contribution to our
customers' Omega 3 intake as we know it
can be hard to consume enough Omega
3 from other sources, especially if you are
not a fan of fish."
The new Omega 3 chicken is
produced on family farms in Northern
Ireland to Waitrose's high welfare
standards, which include plenty of
natural light and more space than the
industry standards allowing the birds to
display natural behaviour. The chicken is
enriched by feeding the birds on a diet
containing an algae (the family of aquatic
plants that includes kelp and seaweed)
naturally rich in Omega 3. The taste and
appearance of the chicken is the same
as birds reared on a conventional diet.
Chicken is Waitrose's top selling protein.
Professor Chris Elliott, Pro Vice
Chancellor, Faculty of Medicine, Health
and Life Sciences, at Queen's University
Belfast, comments, "It's costing £10
billion a year to deal with problems of
heart disease in the UK. Having a source
of Omega 3 in our diet has the potential
for healthier hearts."
Initial trials have shown that people
eating enriched chicken for just five
weeks have increased levels of Omega
3 polyunsaturated fatty acids. Trials were
carried out on 30 participants whose
Omega 3 levels were measured after
one, three and five weeks of eating three
servings per week of omega 3 enriched
chicken meat. On average participants'
levels of Omega 3s increase by 12%.
MAKING CARBS COUNT
Omega-3 enhanced chicken