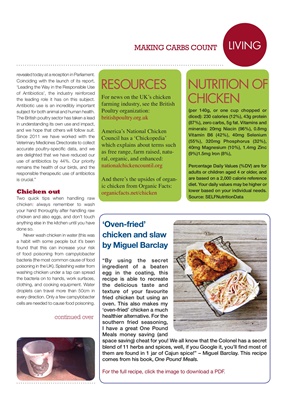 KITLIVING
MAKING CARBS COUNT
revealed today at a reception in Parliament.
Coinciding with the launch of its report,
'Leading the Way in the Responsible Use
of Antibiotics', the industry reinforced
the leading role it has on this subject.
Antibiotic use is an incredibly important
subject for both animal and human health.
The British poultry sector has taken a lead
in understanding its own use and impact,
and we hope that others will follow suit.
Since 2011 we have worked with the
Veterinary Medicines Directorate to collect
accurate poultry-specific data, and we
are delighted that we have reduced our
use of antibiotics by 44%. Our priority
remains the health of our birds, and the
responsible therapeutic use of antibiotics
is crucial."
Chicken out
Two quick tips when handling raw
chicken: always remember to wash
your hand thoroughly after handling raw
chicken and also eggs, and don't touch
anything else in the kitchen until you have
done so.
Never wash chicken in water (this was
a habit with some people but it's been
found that this can increase your risk
of food poisoning from campylobacter
bacteria (the most common cause of food
poisoning in the UK). Splashing water from
washing chicken under a tap can spread
the bacteria on to hands, work surfaces,
clothing, and cooking equipment. Water
droplets can travel more than 50cm in
every direction. Only a few campylobacter
cells are needed to cause food poisoning. RESOURCES
For news on the UK's chicken
farming industry, see the British
Poultry organization:
britishpoultry.org.uk
America's National Chicken
Council has a 'Chickopedia'
which explains about terms such
as free range, farm raised, natural, organic,
and enhanced:
nationalchickencountil.org
And there's the upsides of organic chicken from Organic
Facts:
organicfacts.net/chicken
(per 140g, or one cup chopped or
diced): 230 calories (12%), 43g protein
(87%), zero carbs, 5g fat. Vitamins and
minerals: 20mg Niacin (96%), 0.8mg
Vitamin B6 (42%), 40mg Selenium
(55%), 320mg Phosphorus (32%),
40mg Magnesium (10%), 1.4mg Zinc
(9%)1.5mg Iron (8%),
Percentage Daily Values (%DV) are for
adults or children aged 4 or older, and
are based on a 2,000 calorie reference
diet. Your daily values may be higher or
lower based on your individual needs.
Source: SELFNutritionData
NUTRITION OF
CHICKEN
continued over
'Oven-fried'
chicken and slaw
by Miguel Barclay
"By using the secret
ingredient of a beaten
egg in the coating, this
recipe is able to recreate
the delicious taste and
texture of your favourite
fried chicken but using an
oven. This also makes my
'oven-fried' chicken a much
healthier alternative. For the
southern fried seasoning,
I have a great One Pound
Meals money saving (and
space saving) cheat for you! We all know that the Colonel has a secret
blend of 11 herbs and spices, well, if you Google it, you'll find most of
them are found in 1 jar of Cajun spice!" - Miguel Barclay. This recipe
comes from his book, One Pound Meals.
For the full recipe, click the image to download a PDF, or click HERE.