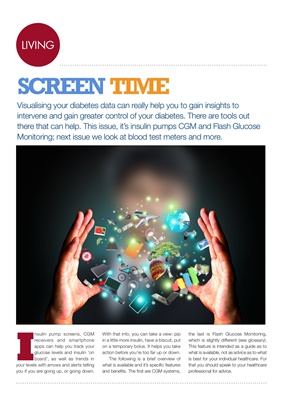 LIVINGLIVING
SCREEN TIME
Visualising your diabetes data can really help you to gain insights to
intervene and gain greater control of your diabetes. There are tools out
there that can help. This issue, it's insulin pumps CGM and Flash Glucose
Monitoring; next issue we look at blood test meters and more.
I
nsulin pump screens, CGM
receivers and smartphone
apps can help you track your
glucose levels and insulin 'on
board', as well as trends in
your levels with arrows and alerts telling
you if you are going up, or going down.
With that info, you can take a view: pip
in a little more insulin, have a biscuit, put
on a temporary bolus. It helps you take
action before you're too far up or down.
The following is a brief overview of
what is available and it's specific features
and benefits. The first are CGM systems,
the last is Flash Glucose Monitoring,
which is slightly different (see glossary).
This feature is intended as a guide as to
what is available, not as advice as to what
is best for your individual healthcare. For
that you should speak to your healthcare
professional for advice.