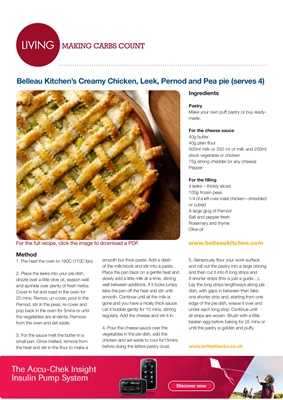 LIVINGLIVING
Belleau Kitchen's Creamy Chicken, Leek, Pernod and Pea pie (serves 4)
Ingredients
Pastry
Make your own puff pastry or buy readymade.
For the cheese sauce
40g butter
40g plain flour
500ml milk or 250 ml of milk and 250ml
stock vegetable or chicken
75g strong cheddar (or any cheese)
Pepper
For the filling
4 leeks - thickly sliced
100g frozen peas
1/4 of a left-over roast chicken - shredded
or cubed
A large glug of Pernod
Salt and pepper fresh
Rosemary and thyme
Olive oil
MAKING CARBS COUNT
Method
1. Pre-heat the oven to 190C (170C fan).
2. Place the leeks into your pie dish,
drizzle over a little olive oil, season well
and sprinkle over plenty of fresh herbs.
Cover in foil and roast in the oven for
20 mins. Remov, un-cover, pour in the
Pernod, stir in the peas, re-cover and
pop back in the oven for 5mins or until
the vegetables are al-dente. Remove
from the oven and set aside.
3. For the sauce melt the butter in a
small pan. Once melted, remove from
the heat and stir in the flour to make a
smooth but thick paste. Add a dash
of the milk/stock and stir into a paste.
Place the pan back on a gentle heat and
slowly add a little milk at a time, stirring
well between additions. If it looks lumpy
take the pan off the heat and stir until
smooth. Continue until all the milk is
gone and you have a nicely thick sauce.
Let it bubble gently for 10 mins, stirring
regularly. Add the cheese and stir it in.
4. Pour the cheese sauce over the
vegetables in the pie dish, add the
chicken and set aside to cool for15mins
before doing the lattice pastry crust.
5. Generously flour your work surface
and roll out the pastry into a large oblong
and then cut it into 6 long strips and
8 shorter strips (this is just a guide…).
Lay the long strips lengthways along pie
dish, with gaps in between then take
one shorter strip and, starting from one
edge of the pie dish, weave it over and
under each long strip. Continue until
all strips are woven. Brush with a little
beaten egg before baking for 25 mins or
until the pastry is golden and puffy.
For the full recipe, click the image to download a PDF, or click HERE.