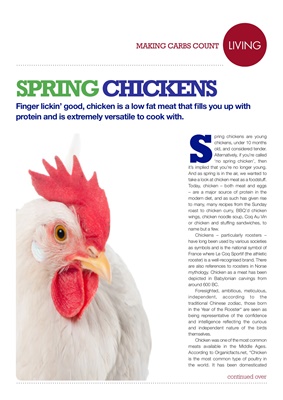 KITLIVING
Finger lickin' good, chicken is a low fat meat that fills you up with
protein and is extremely versatile to cook with.Spring chickens are young
chickens, under 10 months
old, and considered tender.
Alternatively, if you're called
'no spring chicken', then
it's implied that you're no longer young.
And as spring is in the air, we wanted to
take a look at chicken meat as a foodstuff.
Today, chicken - both meat and eggs
- are a major source of protein in the
modern diet, and as such has given rise
to many, many recipes from the Sunday
roast to chicken curry, BBQ'd chicken
wings, chicken noodle soup, Coq Au Vin
or chicken and stuffing sandwiches, to
name but a few.
Chickens - particularly roosters -
have long been used by various societies
as symbols and is the national symbol of
France where Le Coq Sportif (the athletic
rooster) is a well-recognised brand. There
are also references to roosters in Norse
mythology. Chicken as a meat has been
depicted in Babylonian carvings from
around 600 BC.
Foresighted, ambitious, meticulous,
independent, according to the
traditional Chinese zodiac, those born
in the Year of the Rooster* are seen as
being representative of the confidence
and intelligence reflecting the curious
and independent nature of the birds
themselves.
Chicken was one of the most common
meats available in the Middle Ages.
According to Organicfacts.net, "Chicken
is the most common type of poultry in
the world. It has been domesticated
SPRING CHICKENS
MAKING CARBS COUNT
continued over