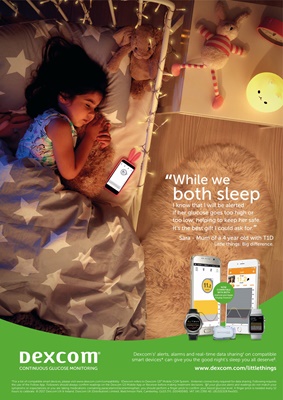 Dexcom's† alerts, alarms and real-time data sharing‡ on compatible
smart devices* can give you the good night's sleep you all deserve§.
While we
both sleep
I know that I will be alerted
if her glucose goes too high or
too low, helping to keep her safe.
It's the best gift I could ask for."
Sara - Mum of a 4 year old with T1D
Little things. Big difference.
"
NOW
COMPATIBLE
WITH BOTH
Android and Apple
Display Devices*
*For a list of compatible smart devices, please visit www.dexcom.com/compatibility. †Dexcom refers to Dexcom G5® Mobile CGM System. ‡Internet connectivity required for data sharing. Following requires
the use of the Follow App. Followers should always confirm readings on the Dexcom G5 Mobile App or Receiver before making treatment decisions. §If your glucose alerts and readings do not match your
symptoms or expectations or you are taking medications containing paracetamol/acetaminophen, you should perform a finger prick to confirm your blood glucose level. A finger prick is needed every 12
hours to calibrate. © 2017 Dexcom UK & Ireland. Dexcom UK (Distribution) Limited, Watchmoor Park, Camberley, GU15 3YL (10040080). VAT 241 2390 40. LBL015328 Rev001.