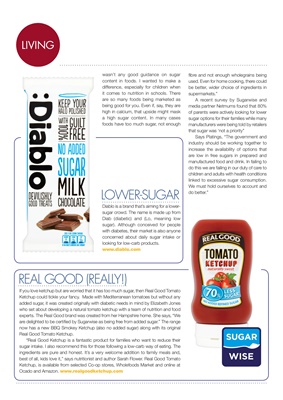 LIVINGLIVING
because it seemed to be an obvious
omission," says Platings, "there simply
wasn't any good guidance on sugar
content in foods. I wanted to make a
difference, especially for children when
it comes to nutrition in schools. There
are so many foods being marketed as
being good for you. Even if, say, they are
high in calcium, that upside might mask
If you love ketchup but are worried that it has too much sugar, then Real Good Tomato
Ketchup could tickle your fancy. Made with Mediterranean tomatoes but without any
added sugar it was created originally with diabetic needs in mind by Elizabeth Jones
who set about developing a natural tomato ketchup with a team of nutrition and food
experts. The Real Good brand was created from her Hampshire home and she says,
"We are delighted to be certified by Sugarwise as being free from added sugar." The
range now has a new BBQ Smokey Ketchup (also no added sugar) along with its
original Real Good Tomato Ketchup.
"Real Good Ketchup is a fantastic product for families who want to reduce their
sugar intake. I also recommend this for those following a low carb way of eating. The
ingredients are pure and honest. It's a very welcome addition to family meals and,
best of all, kids love it," says nutritionist and author Sarah Flower. Real Good Tomato
Ketchup, is available from selected Co-op stores, Wholefoods Market and online at
Ocado and Amazon. www.realgoodketchup.com
REAL GOOD
a high sugar content. In many cases
foods have too much sugar, not enough
fibre and not enough wholegrains being
used. Even for home cooking, there could
be better, wider choice of ingredients in
supermarkets."
A recent survey by Sugarwise and
media partner Netmums found that 80%
of parents were actively looking for lower
sugar options for their families while many
manufacturers were being told by retailers
that sugar was 'not a priority''
Says Platings, "The government and
industry should be working together to
increase the availability of options that
are low in free sugars in prepared and
manufactured food and drink. In failing to
do this we are failing in our duty of care to
children and adults with health conditions
Diablo is another brand that's aiming for
a lower-sugar crowd. The name is made
up from Diab (diabetic) and (Lo, meaning
low sugar). Although conceived for people
with diabetics, the market is also anyone
concerned about daily sugar intake and
are looking for low carb products.
LO-SUGAR