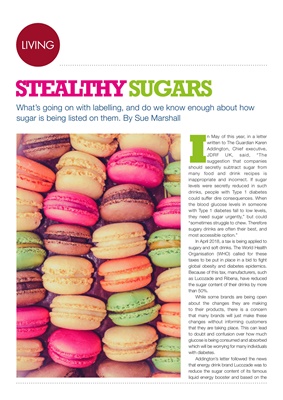 LIVINGLIVING
STEALTHY SUGARS
What's going on with labelling, and do we know enough about how
sugar is being listed on them. By Sue Marshall I
n May of this year, in a letter
written to The Guardian Karen
Addington, Chief executive,
JDRF UK, said, "The
suggestion that companies
should secretly subtract sugar from
many food and drink recipes is
inappropriate and incorrect. If sugar
levels were secretly reduced in such
drinks, people with Type 1 diabetes
could suffer dire consequences. When
the blood glucose levels in someone
with Type 1 diabetes fall to low levels,
they need sugar urgently," but could
"sometimes struggle to chew. Therefore
sugary drinks are often their best, and
most accessible option."
In April 2018, a tax is being applied to
sugary and soft drinks. The World Health
Organisation (WHO) called for these
taxes to be put in place in a bid to fight
global obesity and diabetes epidemics.
Because of this tax, manufacturers, such
as Lucozade and Ribena, have reduced
the sugar content of their drinks by more
than 50%.
While some brands are being open
about the changes they are making
to their products, there is a concern
that many brands will just make these
changes without informing customers
that they are taking place. This can lead
to doubt and confusion over how much
glucose is being consumed and absorbed
which will be worrying for many individuals
with diabetes.
Addington's letter followed the news
that energy drink brand Lucozade was to
reduce the sugar content of its famous
liquid energy booster and based on the