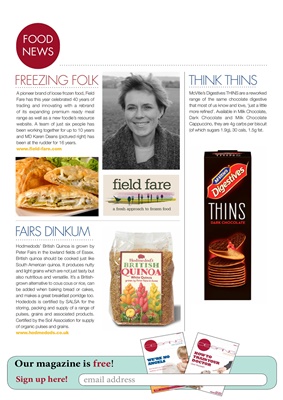 LIVINGLIVING
FOOD
NEWS
FAIRS DINKUM
A pioneer brand of loose frozen food, Field
Fare has this year celebrated 40 years of
trading and innovating with a rebrand
of its expanding premium ready meal
range as well as a new foodie's resource
website. A team of just six people has
been working together for up to 10 years
and MD Karen Deans (pictured right) has
been at the rudder for 16 years.
FREEZING FOLK
Hodmedods' British Quinoa is grown by
Peter Fairs in the lowland fields of Essex.
British quinoa should be cooked just like
South American quinoa. It produces nutty
and light grains which are not just tasty but
also nutritious and versatile. It's a Britishgrown
alternative to cous cous or rice, can
be added when baking bread or cakes,
and makes a great breakfast porridge too.
Hodedods is certified by SALSA for the
storing, packing and supply of a range of
pulses, grains and associated products.
Certified by the Soil Association for supply
of organic pulses and grains.
THINK THINS
McVitie's Digestives THINS are a reworked
range of the same chocolate digestive
that most of us know and love, 'just a little
more refined'. Available in Milk Chocolate,
Dark Chocolate and Milk Chocolate
Cappuccino, they are 4g carbs per biscuit
(of which sugars 1.9g), 30 cals, 1.5g fat.
ISSUE 30
MAGAZINE
DESANG
PLUS • New Products • Groovy giveaways • News (for T1 and T2)
WE'RE NO
ANGELS
But business as usual is best for
diabetics at Christmas
MAKING
CARBS COUNT:
CHESTNUTS ROASTING
ON OPEN FIRES
Our magazine is free!
Sign up here! email address