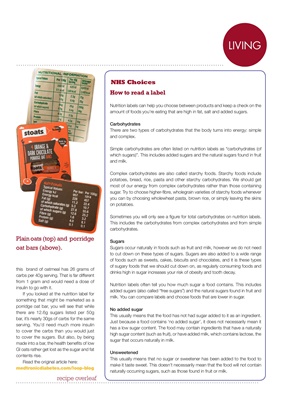 KITLIVING
Continued over
Nutrition labels can help you choose between products and keep a check on the
amount of foods you're eating that are high in fat, salt and added sugars.
Carbohydrates
There are two types of carbohydrates that the body turns into energy: simple
and complex.
Simple carbohydrates are often listed on nutrition labels as "carbohydrates (of
which sugars)". This includes added sugars and the natural sugars found in fruit
and milk.
Complex carbohydrates are also called starchy foods. Starchy foods include
potatoes, bread, rice, pasta and other starchy carbohydrates. We should get
most of our energy from complex carbohydrates rather than those containing
sugar. Try to choose higher-fibre, wholegrain varieties of starchy foods whenever
you can by choosing wholewheat pasta, brown rice, or simply leaving the skins
on potatoes.
Sometimes you will only see a figure for total carbohydrates on nutrition labels.
This includes the carbohydrates from complex carbohydrates and from simple
carbohydrates.
Sugars
Sugars occur naturally in foods such as fruit and milk, however we do not need
to cut down on these types of sugars. Sugars are also added to a wide range
of foods such as sweets, cakes, biscuits and chocolates, and it is these types
of sugary foods that we should cut down on, as regularly consuming foods and
drinks high in sugar increases your risk of obesity and tooth decay.
Nutrition labels often tell you how much sugar a food contains. This includes
added sugars (also called "free sugars") and the natural sugars found in fruit and
milk. You can compare labels and choose foods that are lower in sugar.
No added sugar
This usually means that the food has not had sugar added to it as an ingredient.
Just because a food contains 'no added sugar', it does not necessarily mean it
has a low sugar content. The food may contain ingredients that have a naturally
high sugar content (such as fruit), or have added milk, which contains lactose, the
sugar that occurs naturally in milk.
Unsweetened
This usually means that no sugar or sweetener has been added to the food to
make it taste sweet. This doesn't necessarily mean that the food will not contain
naturally occurring sugars, such as those found in fruit or milk.
NHS Choices
How to read a label
but that's not entirely true, because sugar
grams are not what we would base our
insulin/medication dose on. Instead,
as a diabetic we need to look at the
carbohydrate serving. For example, one
brand of oatmeal has 27 grams of carbs
per 30g serving. That is far different from
1 gram and would need a dose of insulin
to go with it.
If you looked at the nutrition label for
something that might be marketed as a
'sugar free cookie', many would think that
since it has 'sugar free' on the packaging
that they should be able to eat as many
of these as they wanted. But take a
closer look at the label and you will see
that while there are (magically) no sugars
listed, there are still carbs that you would
need to take insulin for. So you still need
to account for 'sugar free' items when the
next person offers one to you.
Read the original article here:
medtronicdiabetes.com/loop-blog