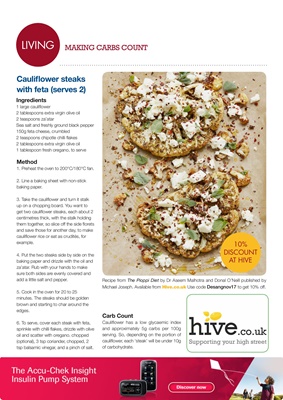 LIVINGLIVING
Cauliflower steaks
with feta (serves 2)
Ingredients
1 large cauliflower
2 tablespoons extra virgin olive oil
2 teaspoons za'atar
Sea salt and freshly ground black pepper
150g feta cheese, crumbled
2 teaspoons chipotle chilli flakes
2 tablespoons extra virgin olive oil
1 tablespoon fresh oregano, to serve
MAKING CARBS COUNT
Method
1. Preheat the oven to 200°C/180°C fan.
2. Line a baking sheet with non-stick
baking paper.
3. Take the cauliflower and turn it stalk
up on a chopping board. You want to
get two cauliflower steaks, each about 2
centimetres thick, with the stalk holding
them together, so slice off the side florets
and save those for another day, to make
cauliflower rice or eat as crudités, for
example.
4. Put the two steaks side by side on the
baking paper and drizzle with the oil and
za'atar. Rub with your hands to make
sure both sides are evenly covered and
add a little salt and pepper.
5. Cook in the oven for 20 to 25
minutes. The steaks should be golden
brown and starting to char around the
edges.
6. To serve, cover each steak with feta,
sprinkle with chilli flakes, drizzle with olive
oil and scatter with oregano. chopped
(optional), 3 tsp coriander, chopped, 2
tsp balsamic vinegar, and a pinch of salt.
Recipe from The Pioppi Diet by Dr Aseem Malhotra and Donal O'Neill published by
Michael Joseph. Available from Hive.co.uk Use code Desangnov17 to get 10% off.
Carb Count
Cauliflower has a low glycaemic index
and approximately 5g carbs per 100g
serving. So, depending on the portion of
cauliflower, each 'steak' will be under 10g
of carbohydrate.
10%
DISCOUNT
AT HIVE