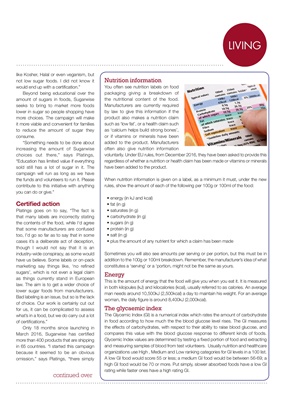 KITLIVING
Nutrition information
You often see nutrition labels on food
packaging giving a breakdown of
the nutritional content of the food.
Manufacturers are currently required
by law to give this information if the
product also makes a nutrition claim
such as "low fat", or a health claim such
as "calcium helps build strong bones",
or if vitamins or minerals have been
added to the product. Manufacturers
often also give nutrition information
voluntarily, and under new EU rules will be required to provide this information from
December 2016, regardless of whether a nutrition or health claim has been made or
vitamins or minerals have been added to the product.
When nutrition information is given on a label, as a minimum it must, under the new
rules, show the amount of each of the following per 100g or 100ml of the food:
• energy (in kJ and kcal)
• fat (in g)
• saturates (in g)
• carbohydrate (in g)
• sugars (in g)
• protein (in g)
• salt (in g)
• plus the amount of any nutrient for which a claim has been made
Sometimes you will also see amounts per serving or per portion, but this must be in
addition to the 100g or 100ml breakdown. Remember, the manufacturer's idea of what
constitutes a 'serving' or a 'portion, might not be the same as yours.
Energy
This is the amount of energy that the food will give you when you eat it. It is measured
in both kilojoules (kJ) and kilocalories (kcal), usually referred to as calories. An average
man needs around 10,500kJ (2,500kcal) a day to maintain his weight. For an average
woman, the daily figure is around 8,400kJ (2,000kcal).
The glycaemic index
The Glycemic Index (GI) is a numerical index which rates the amount of carbohydrate
in food according to how much the the blood glucose level rises. The GI measures
the effects of carbohydrates, with respect to their ability to raise blood glucose, and
compares this value with the blood glucose response to different kinds of foods.
Glycemic Index values are determined by testing a fixed portion of food and extracting
and measuring samples of blood from test volunteers. Usually nutrition and healthcare
organizations use High , Medium and Low ranking categories for GI levels in a 100 list.
A low GI food would score 55 or less; a medium GI food would be between 56-69; a
high GI food would be 70 or more. Put simply, slower absorbed foods have a low GI
rating while faster ones have a high rating GI.
any notice of sugar. They would be familiar
with having conversations about things
like Kosher, Halal or even veganism, but
not low sugar foods. I did not know it
would end up with a certification."
Beyond being educational over the
amount of sugars in foods, Sugarwise
seeks to bring to market more foods
lower in sugar so people shopping have
more choices. The campaign will make
it more viable and convenient for families
to reduce the amount of sugar they
consume.
"Something needs to be done about
increasing the amount of Sugarwise
choices out there," says Platings,
"Education has limited value if everything
sold still has a lot of sugar in it. The
campaign will run as long as we have
the funds and volunteers to run it. Please
contribute to this initiative with anything
you can do or give."
Certified action
Platings adds, "The fact is that many
labels are incorrectly stating the contents
of the food, while I'd agree that some
manufacturers are confused too, I'd go
so far as to say that in some cases it's
a deliberate act of deception though I
would not say that it is not an industrywide conspiracy,
as some would have
us believe. Some labels or on-pack
marketing say things like, 'no refined
sugars', which is not even a legal claim
as things currently stand in European
law. The aim is to get a wider choice of
lower sugar foods from manufacturers.
Bad labeling is an issue, but so is the lack
of choice. Our work is certainly cut out
for us, it can be complicated to assess
what's in a food, but we do carry out a lot
of certifications."
Only 18 months since launching in
March 2016, Sugarwise has certified
more than 400 products that are shipping
in 65 countries. "I started this campaign
continued over