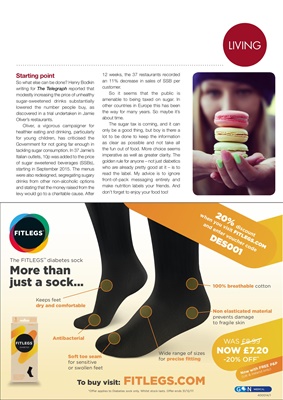 KITLIVING
Keeps feet
dry and comfortable
100% breathable cotton
Antibacterial
The FITLEGS™ diabetes sock
Wide range of sizes
for precise fitting
*Offer applies to Diabetes sock only. Whilst stock lasts. Offer ends 31/12/17.
Non elasticated material
prevents damage
to fragile skin
Soft toe seam
for sensitive
or swollen feet
To buy visit: FITLEGS.COM
WAS £8.99
Now with FREE P&P
(UK & Ireland only)
-20% OFF*
NOW £7.20
More than
just a sock...
20%
DES001
discount
when you visit FITLEGS.COM
and enter voucher code
400014/1
linked to excessive sugar consumption.
We must hold ourselves to account and
do better."
So what does the public Henry Bodkin
writing for The Telegraph reported that
modestly increasing the price of unhealthy
sugar-sweetened drinks substantially
lowered the number people buy, as
discovered in a trial undertaken in Jamie
Oliver's restaurants.
Oliver, a vigorous campaigner for
healthier eating and drinking, particularly
among children, and has criticised the
Government for not going far enough in
tackling sugar consumption. In 37 Jamie's
Italian outlets, 10p was added to the price
of SSBs, starting in September 2015. The
menus were also redesigned, segregating
sugary drinks from other non-alcoholic
options and stating that the money raised
from the levy would go to a charitable
cause. After 12 weeks, the 37 restaurants
recorded an 11% decrease in sales of
SSB per customer.
Starting point
The sugar tax is coming, and it can only
be a good thing, but boy is there a lot to
be done to keep the information as clear
as possible and not take all the fun out
of food. More choice seems imperative
as well as greater clarity. The golden rule
for anyone - not just diabetics who are
already pretty good at it - is to read the
label. My advice is to ignore front-of-pack
messaging entirely and make nutrition
labels your friends. And don't forget to
enjoy your food too!