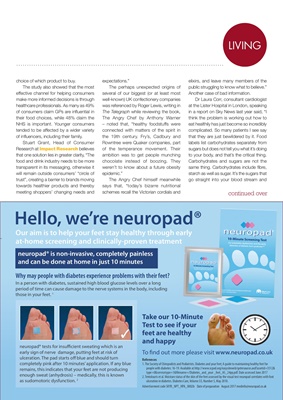 KITLIVING
Hello, we're neuropad®
Our aim is to help your feet stay healthy through early
at-home screening and clinically-proven treatment
neuropad® is non-invasive, completely painless
and can be done at home in just 10 minutes
References
1. The Society of Chiropodists and Podiatrists. Diabetes and your feet; A guide to maintaining healthy feet for
people with diabetes: 16-19. Available at http://www.scpod.org/easysiteweb/getresource.axd?assetid=3512&
type=0&servicetype=1&fi lename=/Diabetes_and_your _feet_A5_24pp.pdf. Date accessed June 2017
2. Tentolouris et al. Moisture status of the skin of the feet assessed by the visual test neumedinfo@neuropad.co.ukfoot
ulceration in diabetes. Diabetes Care, Volume 33, Number 5, May 2010.
Advertisement code SKYR_NPT_HPA_0002b Date of preparation August 2017 medinfo@neuropad.co.uk
To fi nd out more please visit www.neuropad.co.uk
Take our 10-Minute
Test to see if your
feet are healthy
and happy
e
Why may people with diabetes experience problems with their feet?
In a person with diabetes, sustained high blood glucose levels over a long
period of time can cause damage to the nerve systems in the body, including
those in your feet. 1
neuropad® tests for insuffi cient sweating which is an
early sign of nerve damage, putting feet at risk of
ulceration. The pad starts off blue and should turn
completely pink after 10 minutes' application. If any blue
remains, this indicates that your feet are not producing
enough sweat (anhydrosis) - medically, this is known
as sudomotoric dysfunction. 2
✓
while only 39% feel there are healthier
options available giving consumers a
choice of which product to buy.
The study also showed that the most
effective channel for helping consumers
make more informed decisions is through
healthcare professionals. As many as 49%
of consumers claim GPs are influential in
their food choices, while 48% claim the
NHS is important. Younger consumers
tended to be affected by a wider variety
of influencers, including their family.
Stuart Grant, Head of Consumer
Research at Impact Research believes
that one solution lies in greater clarity, "The
food and drink industry needs to be more
transparent in its messaging, otherwise it
will remain outside consumers' "circle of
trust", creating a barrier to brands moving
towards healthier products and thereby
meeting shoppers' changing needs and
expectations."
The perhaps unexpected origins of
several of our biggest (or at least most
well-known) UK confectionery companies
was referenced by Roger Lewis, writing
in The Telegraph, Roger Lewis - while
reviewing the book, The Angry Chef by
Anthony Warner - noted that, "healthy
foodstuffs were connected with matters
of the spirit in the 19th century. Fry's,
Cadbury and Rowntree were Quaker
companies, part of the temperance
movement. Their ambition was to get
people munching chocolate instead of
boozing. They weren't to know about a
future obesity epidemic."
The Angry Chef himself meanwhile
says that, "today's bizarre nutritional
schemes recall the Victorian cordials and
elixirs, and leave many members of the
public struggling to know what to believe."
Another case of bad information.
Dr Laura Corr, consultant cardiologist
at the Lister Hospital in London, speaking
in a report on SKYNews last year said, "I
think the problem is working out how to
eat healthily has just become so incredibly
complicated. So many patients I see way
that they are just bewildered by it. Food
labels list carbohydrates separately from
sugars but does not tell you what it's doing
to your body, and that's the critical thing.
Carbohydrates and sugars are not the
same thing. Carbohydrates include fibre,
continued over