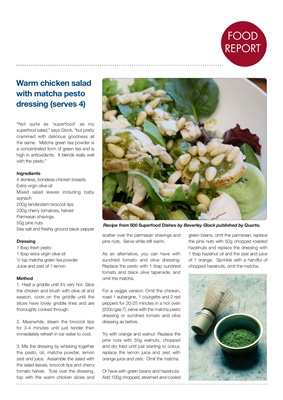 KITLIVING
FOOD
REPORT
"Not quite as 'superfood' as my
superfood salad," says Glock, "but pretty
crammed with delicious goodness all
the same. Matcha green tea powder is
a concentrated form of green tea and is
high in antioxidants. It blends really well
with the pesto."
Ingredients
4 skinless, boneless chicken breasts
Extra virgin olive oil
Mixed salad leaves including baby
spinach
200g tenderstem broccoli tips
200g cherry tomatoes, halved
Parmesan shavings
50g pine nuts
Sea salt and freshly ground black pepper
Dressing
1 tbsp fresh pesto
1 tbsp extra virgin olive oil
½ tsp matcha green tea powder
Juice and zest of 1 lemon
Method
1. Heat a griddle until it's very hot. Slice
the chicken and brush with olive oil and
season, cook on the griddle until the
slices have lovely griddle lines and are
thoroughly cooked through.
2. Meanwhile, steam the broccoli tips
for 3-4 minutes until just tender then
immediately refresh in ice water to cool.
3. Mix the dressing by whisking together
the pesto, oil, matcha powder, lemon
zest and juice. Assemble the salad with
the salad leaves, broccoli tips and cherry
tomato halves. Toss over the dressing,
top with the warm chicken slices and
Warm chicken salad
with matcha pesto
dressing (serves 4)
scatter over the parmesan shavings and
pine nuts. Serve while still warm.
As an alternative, you can have
with sundried tomato and olive
dressing:Replace the pesto with 1
tbsp sundried tomato and black olive
tapenade, and omit the matcha.
For a veggie version: Omit the chicken,
roast 1 aubergine, 1 courgette and 2 red
peppers for 20-25 minutes in a hot oven
(200c/gas 7), serve with the matcha pesto
dressing or sundried tomato and olive
dressing as before.
Try with orange and walnut: Replace the
pine nuts with 50g walnuts, chopped
and dry fried until just starting to colour,
replace the lemon juice and zest with
orange juice and zest. Omit the matcha.
Or have with green beans and hazelnuts:
Add 100g chopped, steamed and cooled
green beans, omit the parmesan, replace
the pine nuts with 50g chopped roasted
hazelnuts and replace the dressing with
1 tbsp hazelnut oil and the zest and juice
of 1 orange. Sprinkle with a handful of
chopped hazelnuts, omit the matcha.
Recipe from 500 Superfood Dishes by
Beverley Glock published by Quarto.