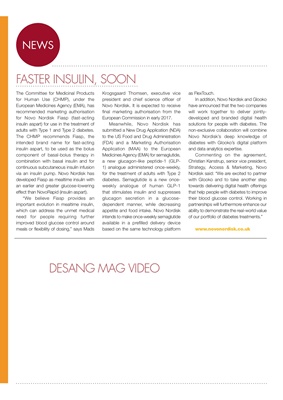 NEWS
The Committee for Medicinal Products
for Human Use (CHMP), under the
European Medicines Agency (EMA), has
recommended marketing authorisation
for Novo Nordisk Fiasp (fast-acting
insulin aspart) for use in the treatment of
adults with Type 1 and Type 2 diabetes.
The CHMP recommends Fiasp, the
intended brand name for fast-acting
insulin aspart, to be used as the bolus
component of basal-bolus therapy in
combination with basal insulin and for
continuous subcutaneous insulin infusion
via an insulin pump. Novo Nordisk has
developed Fiasp as mealtime insulin with
an earlier and greater glucose-lowering
effect than NovoRapid (insulin aspart).
"We believe Fiasp provides an
important evolution in mealtime insulin,
which can address the unmet medical
need for people requiring further
improved blood glucose control around
meals or flexibility of dosing," says Mads
FASTER INSULIN, SOON
Krogsgaard Thomsen, executive vice
president and chief science officer of
Novo Nordisk. It is expects to receive
final marketing authorisation from the
European Commission in the early part of
2017.
Meanwhile, Novo Nordisk has
submitted a New Drug Application (NDA)
to the US Food and Drug Administration
(FDA) and a Marketing Authorisation
Application (MAA) to the European
Medicines Agency (EMA) for semaglutide,
a new glucagon-like peptide-1 (GLP1) analogue administered
once-weekly,
for the treatment of adults with Type 2
diabetes. Semaglutide is a new onceweekly analogue of human GLP-1
that stimulates insulin and suppresses
glucagon secretion in a glucosedependent manner,
while decreasing
appetite and food intake. Novo Nordisk
intends to make once-weekly semaglutide
available in a prefilled delivery device
based on the same technology platform
as FlexTouch.
In addition, Novo Nordisk and Glooko
have announced that the two companies
will work together to deliver jointlydeveloped and branded digital health
solutions for people with diabetes. The
non-exclusive collaboration will combine
Novo Nordisk's deep knowledge of
diabetes with Glooko's digital platform
and data analytics expertise.
Commenting on the agreement,
Christian Kanstrup, senior vice president,
Strategy, Access & Marketing, Novo
Nordisk said: "We are excited to partner
with Glooko and to take another step
towards delivering digital health offerings
that help people with diabetes to improve
their blood glucose control. Working in
partnerships will furthermore enhance our
ability to demonstrate the real-world value
of our portfolio of diabetes treatments."
DESANG MAG VIDEO