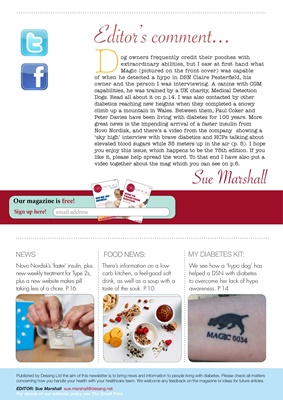 Published by Desang Ltd the aim of this newsletter is to bring news and information to people living with diabetes. Please check all matters
concerning how you handle your health with your healthcare team. We welcome any feedback on the magazine or ideas for future articles.
EDITOR: Sue Marshall sue.marshall@desang.net
For details of our editorial policy see The Small Print.
There's information on a lowcarb kitchen, a feel-good soft
drink, as well as a soup with a
taste of the souk. P.10.
Sue Marshall
NEWS
Novo Nordisk's 'faster' insulin, plus
new weekly treatment for Type
2s, plus a website that can help
patients take the correct pills. P16.Dog owners frequently credit their pooches with
extraordinary abilities, but I saw at first hand what
Magic (pictured on the front cover) was capable
of when he detected a hypo in DSN Claire Pesterfield, his
owner and the person I was interviewing. A canine with CGM
capabilities, he was trained by a UK charity, Medical Detection
Dogs. Read all about it on p.14. I was also contacted by other
diabetics reaching new heights when they completed a snowy
climb up a mountain in Wales. Between them, Paul Coker and
Peter Davies have been living with diabetes for 100 years. More
great news in the news is the impending arrival of a faster
insulin from Novo Nordisk, and there's a video from the company
showing a 'sky high' interview with brave diabetics and HCPs
talking about elevated blood sugars while 35 meters up in the air
(p. 5). I hope you enjoy this issue, which happens to be the 75th
edition. If you like it, please help spread the word. To that end I
too have put a video together which you can see on p.
Editor's comment...
ISSUE 30
MAGAZINE
DESANG
PLUS • New Products • Groovy giveaways • News (for T1 and T2)
WE'RE NO
ANGELS
But business as usual is best for
diabetics at Christmas
MAKING
CARBS COUNT:
CHESTNUTS ROASTING
ON OPEN FIRES
Our magazine is free!
Sign up here! email address
MY DIABETES KIT:
We see how a 'hypo dog' has
helped a DSN with diabetes
to overcome her lack of hypo
awareness. P.14.
FOOD NEWS: