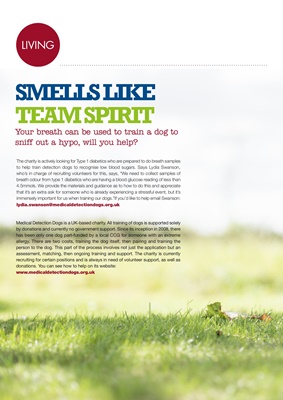 LIVINGLIVING
SMELLS LIKE
TEAM SPIRIT
Your breath can be used to train a dog to
sniff out a hypo, will you help?
The charity is actively looking for Type 1 diabetics who are prepared to do breath samples
to help train detection dogs to recognise low blood sugars. Says Lydia Swanson,
who's in charge of recruiting volunteers for this, says, "We need to collect samples of
breath odour from type 1 diabetics who are having a blood glucose reading of less than
4.5mmols. We provide the materials and guidance as to how to do this and appreciate
that it's an extra ask for someone who is already experiencing a stressful event, but it's
immensely important for us when training our dogs."
If you'd like to help email Swanson: lydia.swanson@medicaldetectiondogs.org.uk
Medical Detection Dogs is a UK-based charity. All training of dogs is supported solely
by donations and currently no government support. Since its inception in 2008, there
has been only one dog part-funded by a local CCG for someone with an extreme
allergy. There are two costs, training the dog itself, then pairing and training the
person to the dog. This part of the process involves not just the application but an
assessment, matching, then ongoing training and support. The charity is currently
recruiting for certain positions and is always in need of volunteer support.
You can see how to help on its website: www.medicaldetectiondogs.org.uk