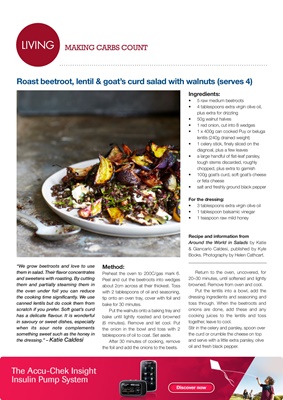 LIVINGLIVING
Roast beetroot, lentil & goat's curd salad with walnuts (serves 4)
Ingredients:
• 5 raw medium beetroots
• 4 tablespoons extra virgin olive oil,
plus extra for drizzling
• 50g walnut halves
• 1 red onion, cut into 8 wedges
• 1 x 400g can cooked Puy or beluga
lentils (240g drained weight)
• 1 celery stick, finely sliced on the
diagnoal, plus a few leaves
• a large handful of flat-leaf parsley,
tough stems discarded, roughly
chopped, plus extra to garnish
• 100g goat's curd, soft goat's cheese
or feta cheese
• salt and freshly ground black pepper
For the dressing:
• 3 tablespoons extra virgin olive oil
• 1 tablespoon balsamic vinegar
• 1 teaspoon raw mild honey
Recipe and information from
Around the World in Salads by Katie
& Giancarlo Caldesi, published by Kyle
Books. Photography by Helen Cathcart.
MAKING CARBS COUNT
"We grow beetroots and love to use
them in salad. Their flavor concentrates
and sweetens with roasting. By cutting
them and partially steaming them in
the oven under foil you can reduce
the cooking time significantly. We use
canned lentils but do cook them from
scratch if you prefer. Soft goat's curd
has a delicate flavour. It is wonderful
in savoury or sweet dishes, especially
when its sour note complements
something sweet such as the honey in
the dressing." - Katie Caldesi
Method:
Preheat the oven to 200C/gas mark 6.
Peel and cut the beetroots into wedges
about 2cm across at their thickest. Toss
with 2 tablespoons of oil and seasoning,
tip onto an oven tray, cover with foil and
bake for 30 minutes.
Put the walnuts onto a baking tray and
bake until lightly roasted and browned
(6 minutes). Remove and let cool. Put
the onion in the bowl and toss with 2
tablespoons of oil to coat. Set aside.
After 30 minutes of cooking, remove
the foil and add the onions to the beets.
Return to the oven, uncovered, for
20-30 minutes, until softened and lightly
browned. Remove from oven and cool.
Put the lentils into a bowl, add the
dressing ingredients and seasoning and
toss through. When the beetroots and
onions are done, add these and any
cooking juices to the lentils and toss
together, leave to cool.
Stir in the celery and parsley, spoon over
the curd or crumble the cheese on top
and serve with a little extra parsley, olive
oil and fresh black pepper.