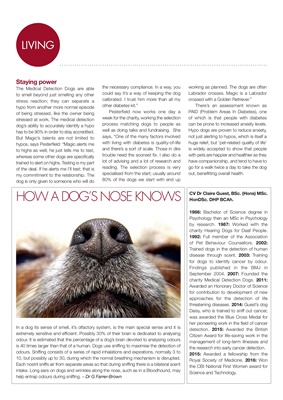 LIVINGLIVING
Staying power
The Medical Detection Dogs are able
to smell beyond just smelling any other
stress reaction; they can separate a
hypo from another more normal episode
of being stressed, like the owner being
stressed at work. The medical detection
dog's ability to accurately identify a hypo
has to be 90% in order to stay accredited.
But Magic's talents are not limited to
hypos, says Pesterfield: "Magic alerts me
to highs as well, he just tells me to test,
whereas some other dogs are specifically
trained to alert on highs. Testing is my part
of the deal. If he alerts me I'll test; that is
my commitment to the relationship. The
dog is only given to someone who will do
the necessary compliance. In a way, you
could say it's a way of keeping the dog
calibrated. I trust him more than all my
other diabetes kit."
Pesterfield now works one day a
week for the charity, working the selection
process matching dogs to people as
well as doing talks and fundraising. She
says, "One of the many factors involved
with living with diabetes is quality-of-life
and there's a sort of scale. Those in dire
trouble need the soonest fix. I also do a
lot of advising and a lot of research and
reading. The selection process is very
specialised from the start; usually around
80% of the dogs we start with end up
working as planned. The dogs are often
Labrador crosses. Magic is a Labrador
crossed with a Golden Retriever."
There's an assessment known as
PAID (Problem Areas In Diabetes), one
of which is that people with diabetes
can be prone to increased anxiety levels.
Hypo dogs are proven to reduce anxiety,
not just alerting to hypos, which is itself a
huge relief, but 'pet-related quality of life'
is widely accepted to show that people
with pets are happier and healthier as they
have companionship, and tend to have to
go for a walk twice a day to take the dog
out, benefitting overall health.
In a dog its sense of smell, it's olfactory system, is the main special sense and it is
extremely sensitive and efficient. Possibly 30% of their brain is dedicated to analysing
odour. It is estimated that the percentage of a dog's brain devoted to analysing odours
is 40 times larger than that of a human. Dogs use sniffing to maximise the detection of
odours. Sniffing consists of a series of rapid inhalations and expirations, normally 3 to
10, but possibly up to 30, during which the normal breathing mechanism is disrupted.
Each nostril sniffs air from separate areas so that during sniffing there is a bilateral scent
intake. Long ears on dogs and wrinkles along the nose, such as in a Bloodhound, may
help entrap odours during sniffing. - Dr G Farrer-Brown
HOW A DOG'S NOSE KNOWS CV Dr Claire Guest, BSc. (Hons) MSc.
HonDSc. DHP BCAh.
1986: Bachelor of Science degree in
Psychology then an MSc in Psychology
by research. 1987: Worked with the
charity Hearing Dogs for Deaf People.
1992: Full member of the Association
of Pet Behaviour Counsellors. 2002:
Trained dogs in the detection of human
disease through scent. 2003: Training
for dogs to identify cancer by odour.
Findings published in the BMJ in
September 2004. 2007: Founded the
charity Medical Detection Dogs. 2011:
Awarded an Honorary Doctor of Science
for contribution to development of new
approaches for the detection of life
threatening diseases. 2014: Guest's dog
Daisy, who is trained to sniff out cancer,
was awarded the Blue Cross Medal for
her pioneering work in the field of cancer
detection. 2015: Awarded the British
Citizen Award for life-saving work in the
management of long-term illnesses and
the research into early cancer detection.
2015: Awarded a fellowship from the
Royal Society of Medicine. 2016: Won
the CBI National First Women award for
Science and Technology.